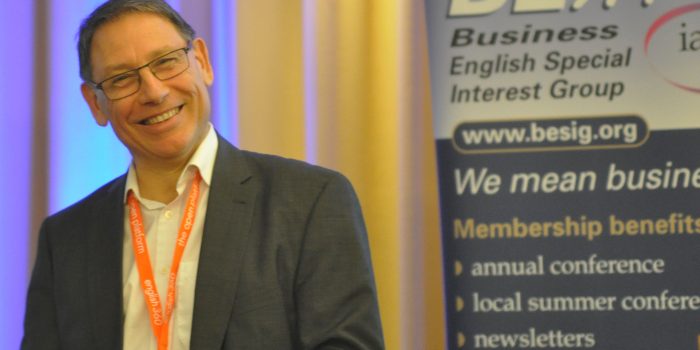 I'd like to share my own personal thoughts about IATEFL BESIG and our recent conference in Berlin. First of all, something about where I am coming from: I am definitely a BESIG insider, having been to all the annual conferences since 1993, and most of the summer and online events. I was Coordinator from 2003 – 2005, and am now Joint Coordinator with Dana Poklepovic. So I am probably a little biased when I write about this topic.
Let me begin with a reminder of what BESIG is about and how we are organized. BESIG's stated mission is to link, develop and support business English language teaching professionals worldwide.  Our members come from over 50 countries, and work in quite different professional contexts. We have academics, non-academics, writers, publishers, trainers, teachers, consultants, and many, many, others. Some argue that it is not really a homogeneous group, but from what I have seen over the years I think it works quite well. We can and do learn from each other. 
BESIG is one of 16 SIGs, one small cog in the vast machine that is IATEFL. At the centre of BESIG is a committee, elected by the members, and supported by members who volunteer to do specific tasks. Many of us think of BESIG in terms of its annual conference, and of course the conference is an important feature. From a coordinator's perspective I see this event as a good example of international project management in action, with committee members coming together from a wide variety of different cultures, time zones, professional backgrounds and experience to meet a common goal. The challenges are very similar to those our learners and clients have to face, and the committee's own learning experience is ongoing and never-ending. But the annual conference is only one item on our agenda, and it might come as news that for some on the committee the week before the conference was spent focused on meeting deadlines for the IATEFL Annual Conference in Manchester next year, producing the next newsletter, updating the website, encouraging members to consider joining the committee, discussing advertising and sponsorship for the coming year, planning next year's budget, and a myriad of other tasks. The annual conference is only a small part of what the BESIG committee does. 
So far I have only really discussed the committee, but of course the committee is meaningless without the 428 members who are currently paid-up members of BESIG. For me there are three types of members. The first type, and the vast majority, are business English practitioners who see BESIG as something nice to belong to, but don't really get involved. Some live far from Europe and will never attend an annual conference, but are able to participate online. The second type, a sizable number, consists of members who are willing to come forward and share some of the workload. These are the essential volunteers that we all rely on to keep BESIG as successful as it is, and who appear at conferences and events year after year. Without this group there would be no BESIG. The third type of member plays an active role in BESIG, and tends to be well known to other members for their talks and active social media presence. Perhaps they see BESIG primarily as a way to market their products and services, but they typically do not take on volunteer roles.
And so, back to the conference. I well remember my first conference in 1993 in Hamburg. I was very nervous, didn't speak to many people, and was in awe of all the "famous" people whose names I knew only from books. But it was exciting. BESIG conferences are always exciting, and Berlin was no different. This time much of the talk was of transition and change, but I think there has always been transition and change in our industry. When I started hardly anybody spoke about lexis, for example, or BELF, or soft skills, and yet nowadays these are accepted by many as important facets of business English teaching. Likewise, innovative technology has always been there, with new developments every year, but what we are seeing is basically building on what has gone before. It's a process. I happen to think that super AI will introduce massive disruption when it finally gets here, but its arrival is still some way off. At the same time, some things have hardly changed. For instance, most of us still argue that our role is to help people with communication skills rather than language. And BESIG still remains reliant on its members to share the workload.
I would like to end with something for you to think about. The feedback we get in the committee is overwhelmingly positive, and it is obvious that BESIG remains a popular organization which meets a need. Many of us have benefitted professionally, and many of us have made life-long friends. I feel the excitement when a young teacher meets a "name" for the first time, and I recognize the sense of achievement when a member gives their first presentation at a BESIG conference.  Yet, as I have mentioned a couple of times, BESIG can only exist if we share the workload. Every year two or three people leave the committee, and two or three join. For most of 2019 we have not had anyone looking after our publications team, and our treasurer ended his term with no replacement. This puts additional pressure on the committee members who remain, and it can be tough. It's probably not sustainable. Already we have decided not to have a summer conference next year, and our annual conference in Warsaw (November 2020) may need to be a little less ambitious than we have become used to. For example, we may not be able to accept all the speaker proposals which we receive, which would be a shame. 
So if you enjoy BESIG and think it should continue, please consider putting your name forward and doing your bit. You don't have to join the committee to help – there are lots of small jobs (e.g. proof-reading articles for the newsletter, helping with finding sponsors, promoting BESIG in your own region). And there are lots of benefits to being a volunteer- just have a look at the comments made by past volunteers which we posted on the website. It doesn't matter how old or young you are, or what experience you bring, or where you live. Every little bit helps.
Evan Frendo (Joint Coordinator and Acting Treasurer)
15 November 2019
[Afternote – as we go to press we are pleased to announce that a couple of members have come forward for the treasurer position, but we are still in need of people to help out with other jobs, particularly on the publications team]