In addition to our face-to-face events, which take place throughout the year, IATEFL BESIG is very active online, organizing a full programme of webinars and other online events on a wide range of topics every year. In an effort to reach as wide an audience as possible, and to fulfil IATEFL's charitable mandate, these events are open and free to everyone.
The events are organised by the IATEFL BESIG Online Team (BOT), often in partnership with other teaching associations from around the world.
Upcoming and recent events are listed below. An archive of past online events will be available soon.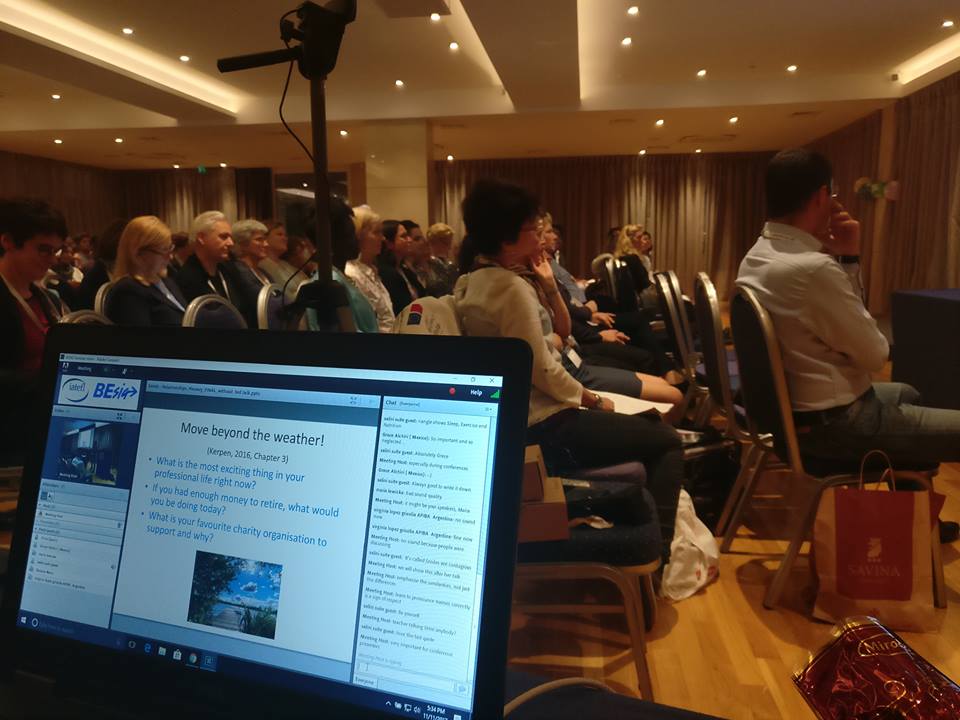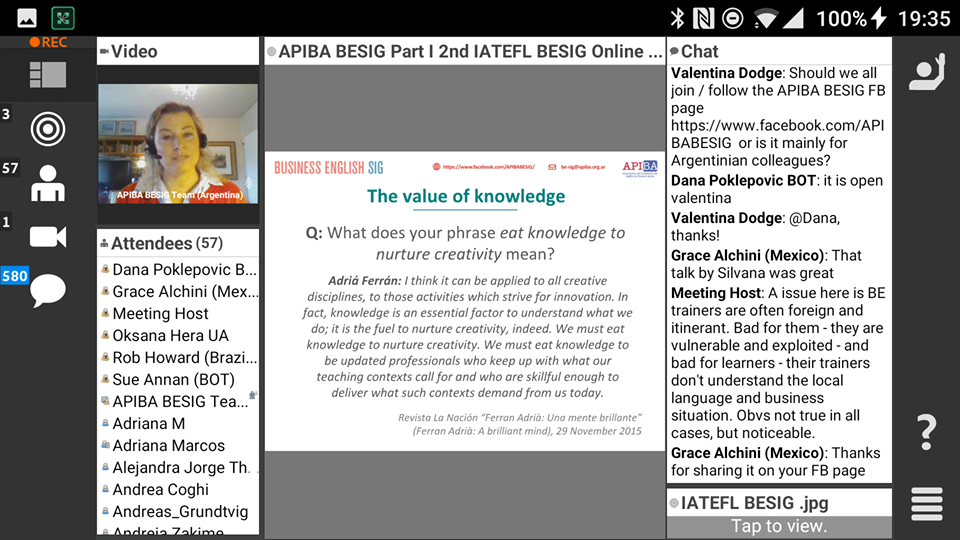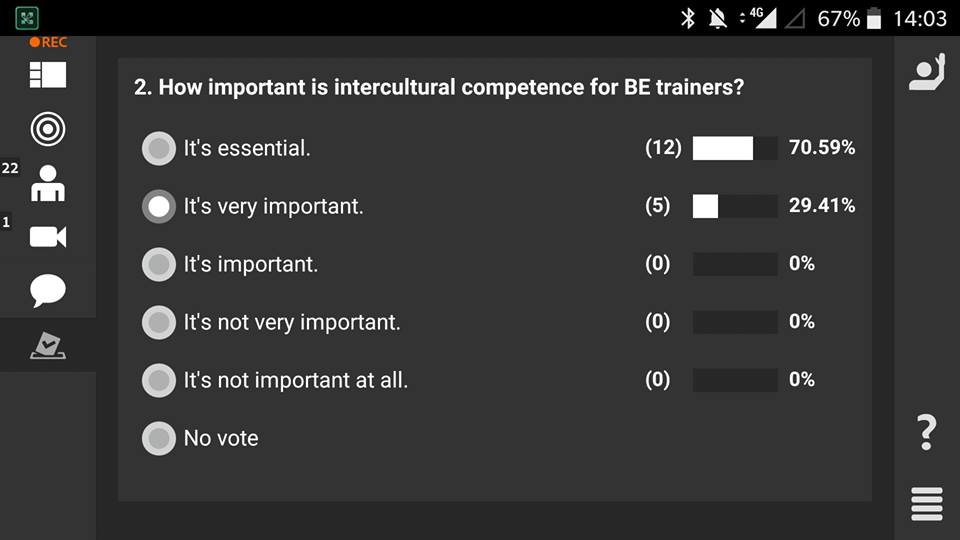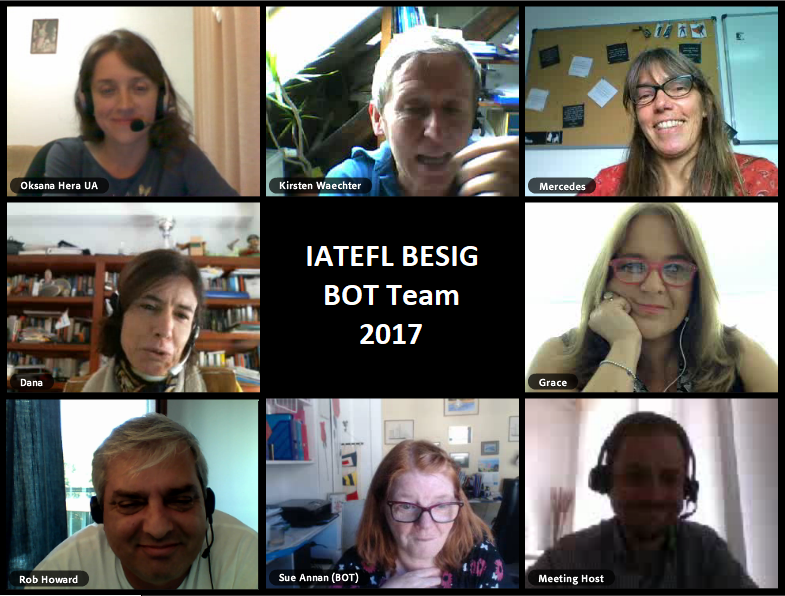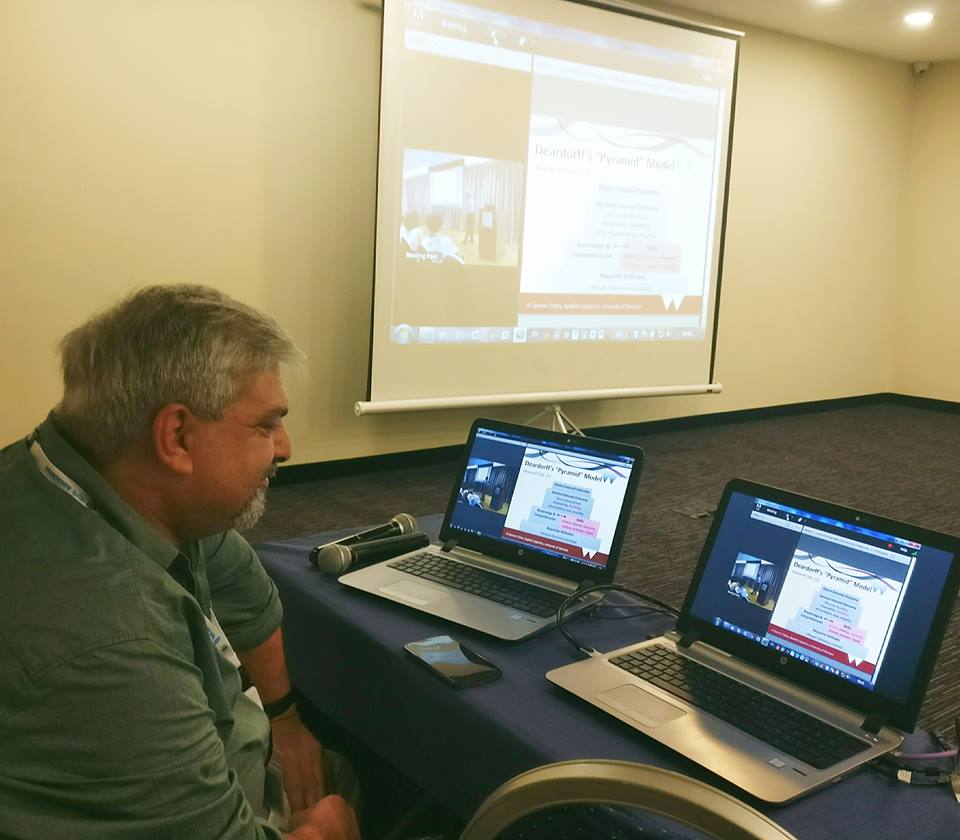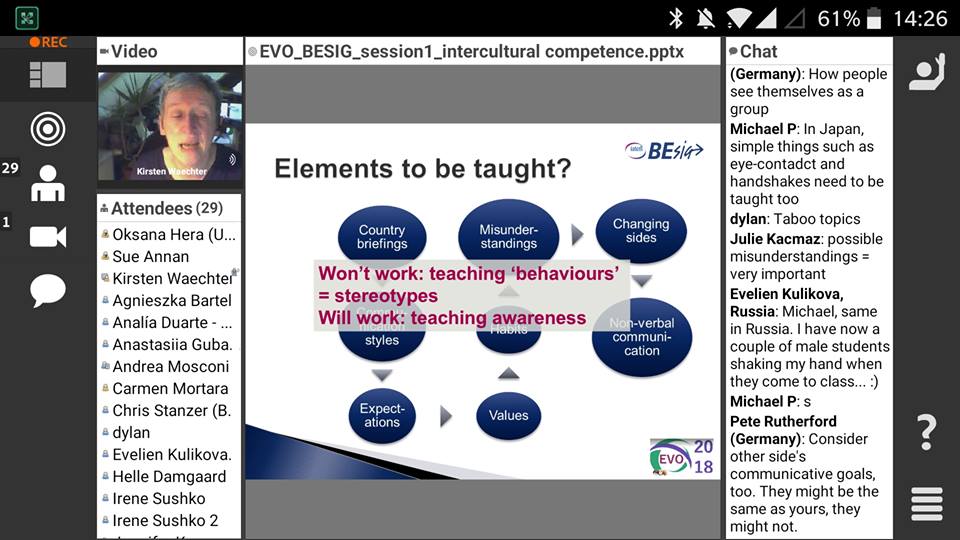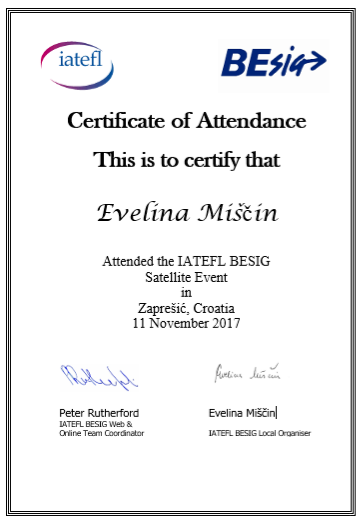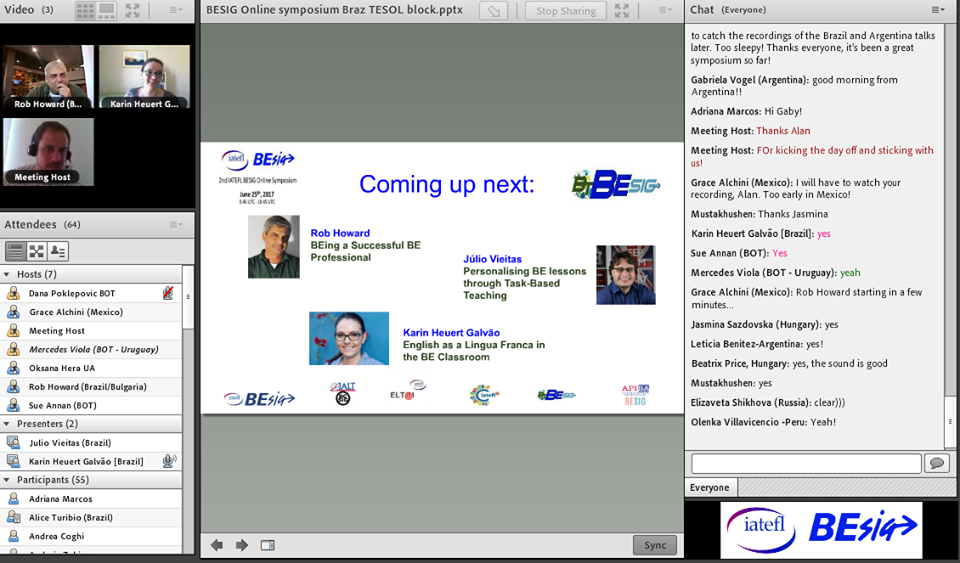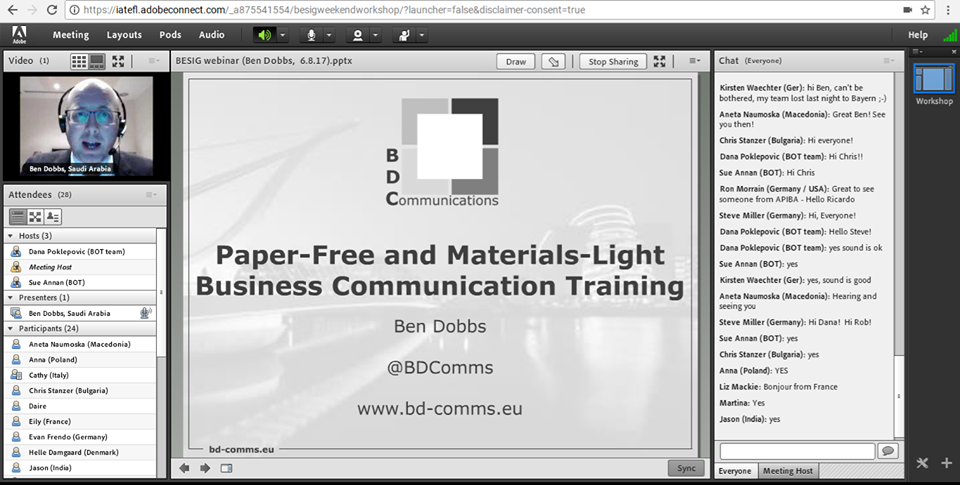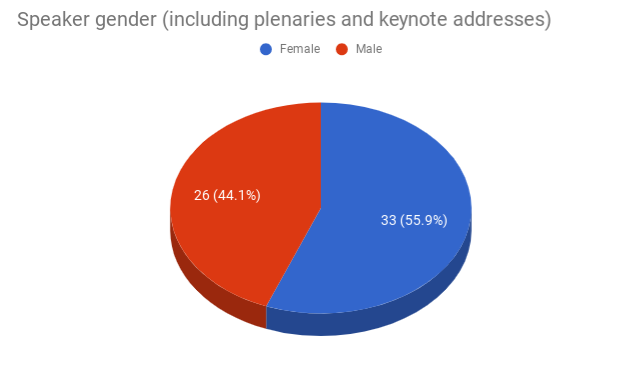 The BREAK ROOM
Dates:
Every 2nd and last Wednesday of the month.
Need a break? Well, slip on your slippers, grab a coffee or tea, get a donut and slip on into the Break Room, a new feature from the IATEFL BESIG is back.
The committee would like to invite members and non-members to join us in online networking meetings. The idea is to provide a platform where both can meet up informally, and chat about life, the universe and everything. If lots of people turn up it will be easy to split into smaller break-out rooms and chat in smaller groups. A great chance to catch up with IATEFL BESIG friends and make new ones.
Just click on the right Wednesday below to enter the Break Room.
2nd Wednesday of the month at 10:00 BST (9:00 UTC)
1st IATEFL Poland Online Business English Event
IATEFL BESIG Reading & Discussion Group
Upcoming dates:

15 June 2021 and every 3rd Tuesday of the month
BE meets AI
Join your fellow-BESIGers for a lively discussion on the impact of Artificial Intelligence on BE in this month's Reading & Discussion get-together – Tuesday 15 June at 18.00 UK time.  
Go to the Members-only Area to find out which text we'll be discussing.
Questions?  Email Maria at [email protected]
Please note, this event is exclusive to members and the joining link will be posted on the day in the Members-Only area of our website.
IATEFL BESIG Showcase & Open Forum
Date: 20 June 2021

Be with IATEFL BESIG at the IATEFL Annual Conference.
Come to our Showcase on Sunday, 20 June for a full day of sessions on BE topics.  Check out our impressive line-up of speakers and topics.
To round-off the day, the IATEFL BESIG committee will update you on our recent achievements and plans for the rest of the year in our Open Forum. We will also have some exciting news for you about IATEFL BESIG's own annual conference.
Here's the programme (in UK times):
– 10:15 – 10:45  Barry Tomalin – New paradigms in business cultural training
This presentation, aimed at language teachers keen to extend their career into intercultural training, shows how to present yourself to employers as a business trainer to ensure results. It focuses on meeting business requirements, how to use appropriate business language in proposals and interviews and using a business-led methodology in training seminars. Sharp, practical and to the point, this presentation will give teachers and intercultural trainers ideas they can use in their own training.
Barry Tomalin is founder and Director of the International House Business Cultural Trainer's Certificate, published author, editor and long-standing member of IATEFL and also of SIETAR.
– 11:00 – 11:30  Mary Sousa – Storytelling: a teaching tool for Business English teachers
This talk is about the importance of storytelling skills for Business English teachers, not only as teachers, but as human beings. Everyone tells stories, but telling them well requires certain skills. Participants will take away three business-based stories suitable for telling either in class or in a pub afterwards.
Mary Sousa integrates traditional and Internet-based methods. Also, she runs a unique bilingual discussion group with native speakers of English and Hungarian.
– 12:00 – 12:45  Marjorie Rosenberg – Bringing soft skills into the BE classroom: Activities that work
Business people are well aware of the importance of soft skills such as rapport, persuasion, cultural awareness and tolerance of others in communication. Come along to this workshop to get some ideas on how to practice these skills and integrate them into your training sessions.

Marjorie Rosenberg trains corporate clients in Austria and is an author of business English materials. She was the IATEFL BESIG Coordinator and IATEFL Past President.
– 14:10 – 14:40 Karin Heuert Galvão – Using DISC assessment to create result-oriented BE lessons

"All human actions have one or more of these causes: chance, nature, compulsion, habit, reason, passion, desire." (Aristotle)
What if you could understand your students' behaviors in a way that you could maximize their learning?
Join Karin for a journey through DISC assessment and how we can create result-oriented BE lessons!
Karin Heuert Galvão has been a teacher for nearly 20 years and the DoS at i-Study Interactive Learning. She is also a Behavioral Analyst and Coach.
– 14:55 – 15:25  Soroush Sabbaghan – Revealed EAP competencies for Pathways to Business stream
In the session, Soroush will outline six competencies that international students need when entering the Bachelor of Commence (BComm) program at the University of Calgary. The competencies were developed by analyzing 215 assignments in terms of task type and task complexity from five mandatory first-year BComm courses. Implications for EAP instructors and programs designers will be discussed.
Dr. Soroush Sabbaghan is Senior Instructor at the Werklund School of Education, Calgary. Work focus: transformational pedagogy, teacher education, enhancing learner experiences in digital environments.
– 15:55 – 16:25  Ariane Niemeijer – The Contingency Plan: An engaging English project for Business students
A project-based English course that has inspired Business students to take on their roles of company saviours as if they owned those companies themselves, while engaging in their classmates' projects with the same vigour, learning English as they went along. Ariane Niemeijer will explain how and why she set it up the way she did so that others can be inspired to set up their own projects in similar ways. One of her secrets: learner autonomy.
Ariane Niemeijer works at Windesheim University of Applied Sciences, Zwolle, the Netherlands. Strong points: creative, analytical, flexible, structured; all essential for applying learner autonomy in a business school.
– 16:40 – 17:10  Graciela Alchini – Soft skills development for pre-service business English students
More often than not, pre-service business English students do not have the soft skills needed to succeed in the workplace. In this session, we will look at some strategies to help university students develop these abilities while enhancing their language and business communication skills.
Grace Alchini is a teacher of English and business communication and ESP trainer with over 35 years' experience teaching at universities and providing in-company services.
– 17:25 – 18:10 Rob Howard & Maria Szugfil – IATEFL Business English Special Interest Group Open Forum – We mean business!

After our inspiring sessions, join us for our Open Forum to discover what IATEFL BESIG will do for you as a member.
We will start with a short introduction to our SIG, followed by a report of our recent achievements and our vision for the near future.
After that, we will open up the floor to questions, comments, and suggestions from you and prove to you that at IATEFL BESIG, we mean business!
Book here your place at the 54th IATEFL International Conference & Exhibition.
IATEFL BESIG Swap Shop
.
Upcoming Dates: 24 July 2021, 28 August 2021
Got some great ideas just sitting on the shelf?
Looking for a treasure you never knew you needed?
Come to the IATEFL BESIG Swap Shop where everyone leaves with more than they came with.
Our long tradition of sharing ideas, materials, resources, activities, and more is back.
Join us to find your favourites at the IATEFL BESIG Swap Shop. Be sure to bring your own to share!
Please note, this event is exclusive to members and the joining link will be posted on the day in the Members-Only area of our website. No registration is needed.
More info? Go to the Members-Only area.