In addition to our face-to-face events, which take place throughout the year, IATEFL BESIG is very active online, organizing a full programme of webinars and other online events on a wide range of topics every year. In an effort to reach as wide an audience as possible, and to fulfil IATEFL's charitable mandate, these events are open and free to everyone.
The events are organised by the IATEFL BESIG Online Team (BOT), often in partnership with other teaching associations from around the world.
Upcoming and recent events are listed below. An archive of past online events is available for members in the Members-only Area.
Evan Frendo - Business English: a retrospective (and a possible manifesto)
At the 34th IATEFL BESIG Annual Conference - courtesy of IATEFL BESIG
We are pleased to announce IATEFL BESIG's exciting and innovative PCE How to build your own course for your particular context with three industry experts in curriculum, course, and material design for an intensive, not-to-be-missed, one-day event on 16 May in Belfast. Book by 10 February to take advantage of the Early bird rates of 57GBP (members) and 70GBP (non-members).
Throughout the day, our trainers – Ben Dobbs, John Hughes and Rachel Appleby – will share the key principles and essential steps towards creating a solid, cohesive learning journey for your learners on their path to success. The sessions are interspersed with focused group-work activities working to develop a course for particular contexts and course types. An important benefit of the interactive format of this event will be the practical support, suggestions and valuable feedback the trainers will provide, as well as the expertise of your fellow PCE participants. You will take away the know-how to devise, design and develop your own customised course that meets the needs of both you and your learners. The day will conclude with a panel discussion and Q&A.  
Whether you already have experience in course design and are looking for new inspiration, or you are relatively new to this area, sign up quickly for this hands-on workshop which will equip you with the confidence you need to build your own course for your unique circumstances. Register today, places are limited!
The IATEFL BESIG Reading & Discussion Group
Upcoming dates:  18 January 2022
What makes a good story?  How do certain political leaders engage, persuade or even manipulate their audience?  And how can we use the strategies, techniques and language in our own narratives?
Watch Philip Seargeant's fascinating plenary talk 'The business of political storytelling'  from the IATEFL BESIG annual conference 2021 and then share your stories at our first Video & Discussion get-together on Tuesday 18 January at 18.00 (UK time). See you there!
Questions? Email Maria at [email protected]
Please note, this event is exclusive to members and the joining link will be posted on the day in the Members-Only area of our website.
The IATEFL BESIG Weekend Webinar
Date: 6 February 2022
Time: 15:00 - 16:00 UK time
Language training as a business partnership
Effective workplace communication is a two-way street. And so is the process of training. Both require high levels of trust and collaboration. Even negotiating the ground rules for everyone involved may turn out to be an exciting communication training activity or reveal the gaps to be addressed.
In this webinar I would like to share some practical examples and real-life cases from my experience of working with local professionals. These will illustrate how working on seemingly usual requests empowers the growth of trainees and trainers alike, and how interconnected this development becomes once trustful relationships have been established.
Oksana Hera is a trainer and consultant from Lviv, Ukraine. She specialises in intercultural communication and helps professionals to improve their communication in teams. She holds an MA (Hons) in Linguistics and Translation, Cert IBET, a Business Cultural Trainer's Certificate, and a CELTA. She is also an active supporter of IATEFL BESIG.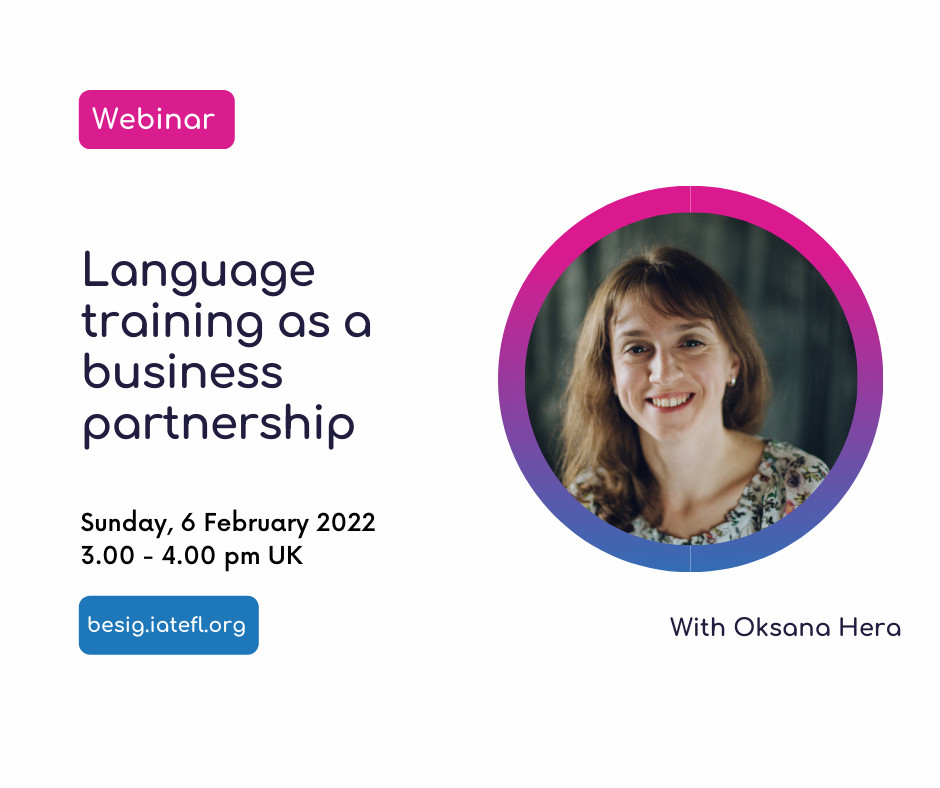 The IATEFL BESIG Break Room
Dates: Every 2nd and last Wednesday of the month.
Need a break? Well, slip on your slippers, grab a coffee or tea, get a donut and slip on into the Break Room, a new feature from the IATEFL BESIG is back.
The committee would like to invite members and non-members to join us in online networking meetings. The idea is to provide a platform where both can meet up informally, and chat about life, the universe and everything. If lots of people turn up it will be easy to split into smaller break-out rooms and chat in smaller groups. A great chance to catch up with IATEFL BESIG friends and make new ones.
Just click on the right Wednesday below to enter the Break Room.
2nd Wednesday of the month at 10:00 UK time (10:00 UTC)
IATEFL BESIG Swap Shop
.
Upcoming Date: TBA
Come by and share your ideas for activities for the BE classroom. The more ideas we get, the better. Bring your idea, a doc, a pdf, a link, whatever but come and see why IATEFL BESIG means business.
Join us to find your favourites and be sure to bring your own to share!
Please note, this event is exclusive to members and the joining link will be posted on the day in the Members-Only area of our website. No registration is needed.
More info? Go to the Members-Only area.