In addition to our face-to-face events, which take place throughout the year, IATEFL BESIG is very active online, organizing a full programme of webinars and other online events on a wide range of topics every year. In an effort to reach as wide an audience as possible, and to fulfil IATEFL's charitable mandate, these events are open and free to everyone.
The events are organised by the IATEFL BESIG Online Team (BOT), often in partnership with other teaching associations from around the world.
Upcoming and recent events are listed below. An archive of past online events is available for members in the Members-only Area.
The IATEFL BESIG Online Workshop
Date:  Saturday, 30 October 2021
Time:  15.00 – 17.00 (UK time) / 14:00 – 16:00 UTC
'Fresh ideas for business English games and activities' with

Ewa Tryhubczak, Agnieska Malek-Bohusz and Regina Szuszkiewicz.
Part 1
Working with adults may prove challenging especially when these adults work in various industries or sectors. The teacher can sometimes find it particularly laborious, energy and time-consuming to come up with both interesting and inquisitive questions that will work as a compelling warm-up activity for most professionals learning English.
The central idea of the first part of the workshop is to familiarize the teachers with the use of various professional resources during their Business English classes to enable them to quickly grasp the arcana of a specific profession by designing great open-ended questions and focusing on essential vocabulary items. We want to base our workshop on our materials being used by teachers who have never seen them before and prove that these materials can be easily applicable to Business English courses at various language levels. We intend to use creativity of teachers during this workshop to help them come up with their own ideas of games on the basis of the materials we provide.
Part 2
The second part of the workshop will be dedicated to business English games. If you want your learners to improve their speaking skills by leaps and bounds, try out the variations of the gaming activities with the Beat About the Bush in Business game. Motivating your student to talk about phenomena, processes and people will not bother you anymore. Interactive activities will help students practice persuasive talks and convince others to their concept or project.  Be ready to fight, laugh and talk to experience how emotions and laughter combined with the development of communication skills may boost your students' confidence. Definitely fun and competitive.
Ewa Tryhubczak is a graduate of English Philology and Business Psychology at the University of Wroclaw and a certified TOEIC® examiner. She conducts Business English training at various levels to staff in international companies as well as small and medium-sized enterprises. She trains mostly HR and management staff, preparing them for presentations, negotiations, recruitment interviews, and navigating their way through international environments when they face cultural differences and language barriers. She trains teachers and language trainers, co-manages Prolang language school and co-creates innovative language training materials – she is the co-author of Business Photo Cards and ESL Printable Handouts.
Agnieszka Małek-Bohusz is a graduate of English Philology at the University of Wrocław and business English teacher. She has been teaching in-company courses in various international companies. She willingly shares her knowledge and experience during training and workshops organized by Prolang school, where she holds the position of a methodologies. Modern methods and innovative teaching tools are her passion and gave her the idea to create VOCAbite Business Photo Cards and ESL Printable Handouts of which she is a co-author. She believes an efficient combination of modern methodological tools and reliable preparation effectively translates into the progress of each student.
Regina Szuszkiewicz, MA in English Philology, is a passionate English teacher and language games developer. She has built a recognizable brand, REGIPIO language games. She has always emphasized that games may enhance language acquisition if they are appropriately used. Regina has shared her experience at national and international conferences including TESOL Spain 2017, TESOL USA 2019, BELTA Belgium 2019, IATEFL Poland 2020 and others.
The IATEFL BESIG Break Room
Dates: Every 2nd and last Wednesday of the month.
Need a break? Well, slip on your slippers, grab a coffee or tea, get a donut and slip on into the Break Room, a new feature from the IATEFL BESIG is back.
The committee would like to invite members and non-members to join us in online networking meetings. The idea is to provide a platform where both can meet up informally, and chat about life, the universe and everything. If lots of people turn up it will be easy to split into smaller break-out rooms and chat in smaller groups. A great chance to catch up with IATEFL BESIG friends and make new ones.
Just click on the right Wednesday below to enter the Break Room.
2nd Wednesday of the month at 10:00 BST (9:00 UTC)
The IATEFL BESIG Round Table
Date: 2 December 2021
Talking BE? Step out of the clubhouse and onto the field, and pull up a seat at the IATEFL BESIG Round Table.
The format: members only, with cameras and mics on, get up to 1 minute to make their point. As we go around the table, each person can comment, add or pass. Come and see where the journey takes us on Thursday, 2 December, 17:00 – 18:00 UTC.
Go to the Members-only Area to join us. No registration needed.
Please note this event is exclusive to members and the joining link will be posted on the day in the Members-only Area of our website.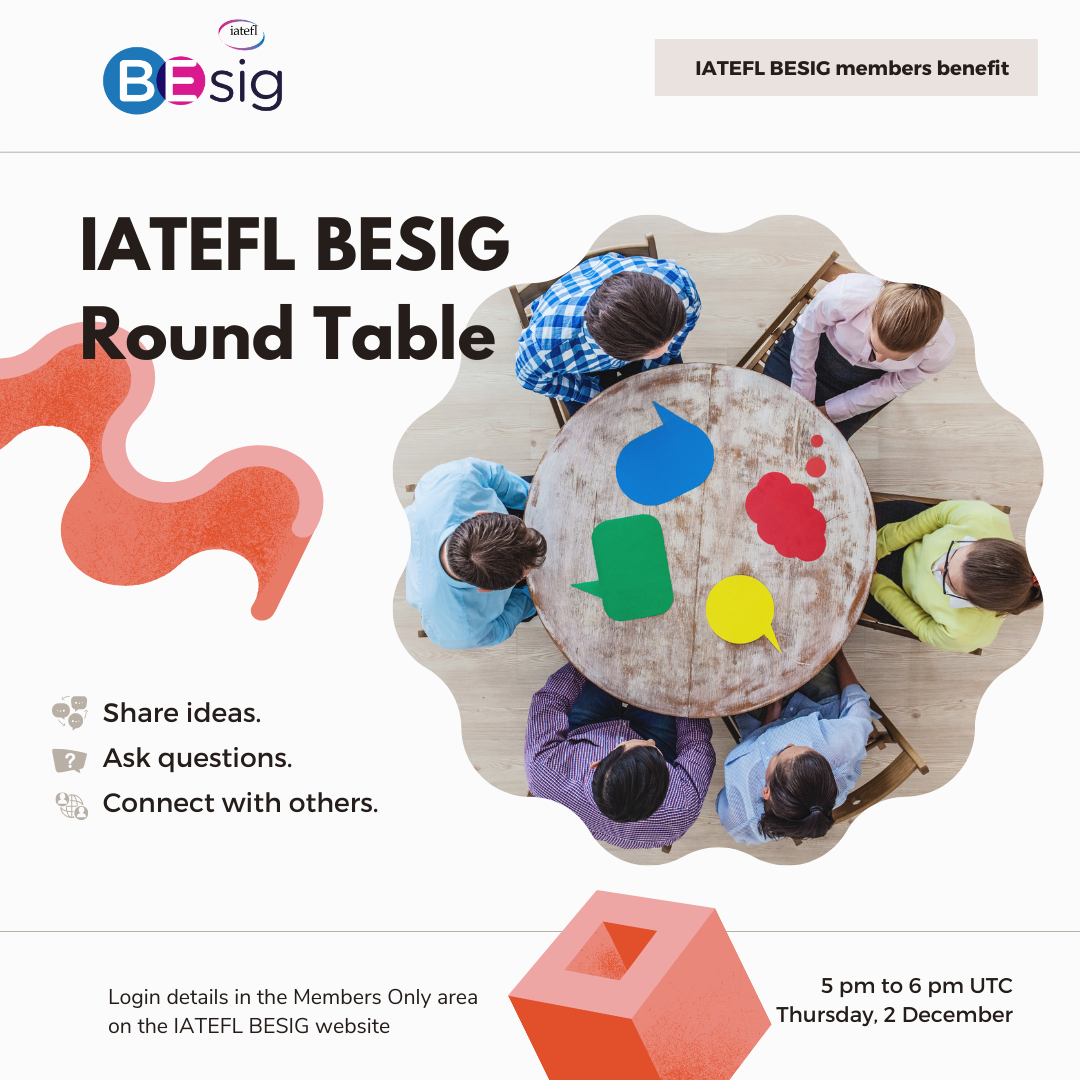 The IATEFL BESIG Reading & Discussion Group
Upcoming dates:  14 December 2021 and every 3rd Tuesday of the month.
Join us for the next Reading & Discussion get-together on Tuesday, 14 December at 18:00 UK time.
Questions? Email Maria at [email protected]
Please note, this event is exclusive to members and the joining link will be posted on the day in the Members-Only area of our website.
The IATEFL BESIG Weekend Webinar
Date: 5 December 2021
TBA
Do you want to do a webinar or workshop for IATEFL BESIG? Contact us at [email protected].
IATEFL BESIG Swap Shop
.
Upcoming Date: TBA
Come by and share your ideas for activities for the BE classroom. The more ideas we get, the better. Bring your idea, a doc, a pdf, a link, whatever but come and see why IATEFL BESIG means business.
Join us to find your favourites and be sure to bring your own to share!
Please note, this event is exclusive to members and the joining link will be posted on the day in the Members-Only area of our website. No registration is needed.
More info? Go to the Members-Only area.