In addition to our face-to-face events, which take place throughout the year, IATEFL BESIG is very active online, organizing a full programme of webinars and other online events on a wide range of topics every year. In an effort to reach as wide an audience as possible, and to fulfil IATEFL's charitable mandate, these events are open and free to everyone.
The events are organised by the IATEFL BESIG Online Team (BOT), often in partnership with other teaching associations from around the world.
Upcoming and recent events are listed below. An archive of past online events is available for members in the Members-only Area.
Evan Frendo - Business English: a retrospective (and a possible manifesto)
At the 34th IATEFL BESIG Annual Conference - courtesy of IATEFL BESIG
The IATEFL BESIG Round Table
Date: 2 June 2022
Time: 18:00 - 19:00 UK time
Talking BE? Step out of the clubhouse and onto the field, and pull up a seat at the IATEFL BESIG Round Table , where a question becomes a quest.
The format: members only, with cameras and mics on, get up to 1 minute to make their point. As we go around the table, each person can comment, add or pass. Come and see where the journey takes us.
Questions?  Email us at [email protected]
The IATEFL BESIG Online Workshop
Date: 18 June 2022
Time: 15:00 - 17:00 UK time
Title: How to better represent your learners' reality for the classroom, the workplace and life
A joint webinar by IATEFL Business English SIG and IATEFL Inclusive Practices and Special Educational Needs SIG.
Does business English have a class problem? – James Taylor
There are many aspects of representation, but one which is often overlooked is class. This is an important subject in any area of ELT, but strikes me as being of particular relevance in Business English in which the focus is usually on the middle management, affluent employees and rarely looks at the other important members of a company hierarchy who usually make up the majority. In this workshop, bring your coursebooks so we can take a look at how BE deals with class in published materials, and how we can alleviate some of the issues that we find.
Identifying and supporting language learners with Specific Learning Differences – Anne Margaret Smith
As teachers we recognise that our students don't all progress at the same rate. But sometimes we have students who do not seem to be progressing at all. There may be something different about them that makes us wonder if they have a specific learning difference (SpLD), like dyslexia, dyspraxia or AD(H)D.
In the absence of any formal identification, we may need to be the ones to take the first steps and evaluate how best to work with our neurodivergent learners.
In this interactive session we'll be looking at how we can spot any learners with SpLDs, looking at key indicators that are evident in the classroom. Just as importantly, we will consider some inclusive practices we can implement in our classrooms that will benefit all learners – especially those with SpLDs.
James Taylor, based in Brasília, Brazil, is an ELTON award-winning EFL teacher, teacher trainer, materials writer, and project manager for Active English. He's the 2nd Vice President of BRAZ-TESOL, leader of BRAZ-TESOL MAWSIG, a committee member of BRAZ-TESOL Brasília & IATEFL TDSIG and has written coursebooks for FTD Educaçao and TransFor.Me. He produces the TEFL Commute podcast & co-founded the Raise Up! project, encouraging diversity in ELT materials. He has twice been nominated for an ELTON award, winning for Excellence in Course Innovation in 2021.
Dr. Anne Margaret Smith started her career as a teacher of English as a foreign / additional language around 30 years ago. Alongside her language teaching, she also works as a dyslexia assessor and specialist tutor, and is currently also training to be a Speech and Language Therapist. She founded ELT well in 2005, to combine these two fields of education, and offers professional development and resources to language teachers in all contexts. She was instrumental in setting up the IATEFL IP&SEN SIG and served as the second Coordinator of the SIG.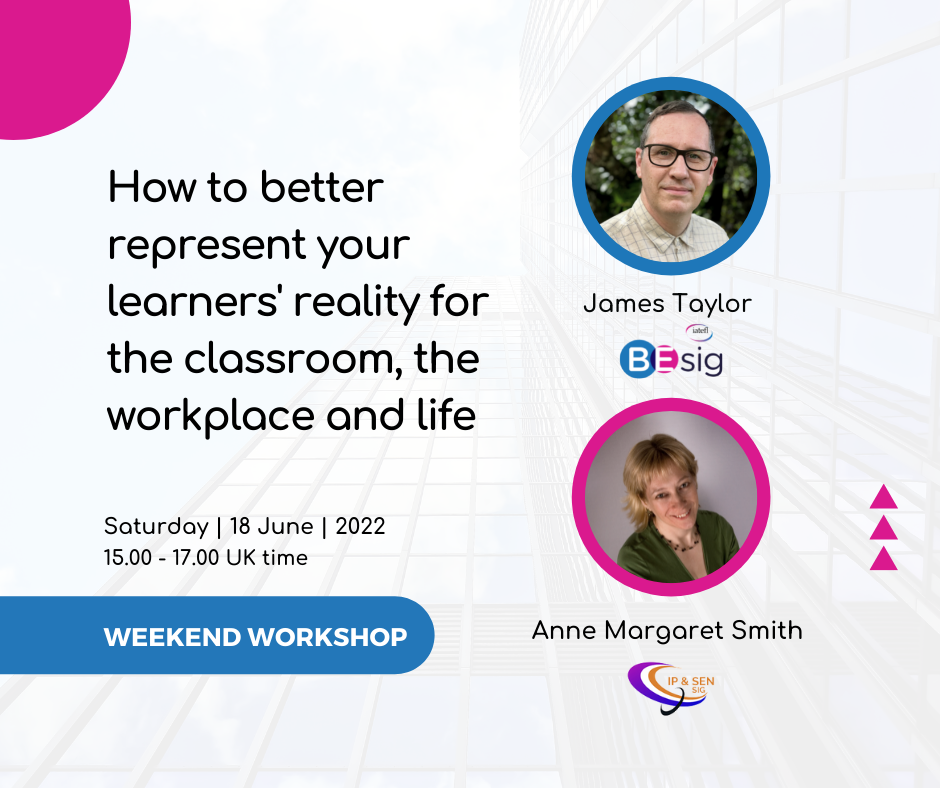 The IATEFL BESIG Reading & Discussion Group
Date: 21 June 2022
Time: 18:00 - 19:00 UK time
Details to be announced soon so watch this space!
Go to the Members-only Area for the materials and joining link. 
No pre-registration needed.
Questions? Email Maria at [email protected]
Please note, this event is exclusive to members and the joining link will be posted on the day in the Members-Only area of our website.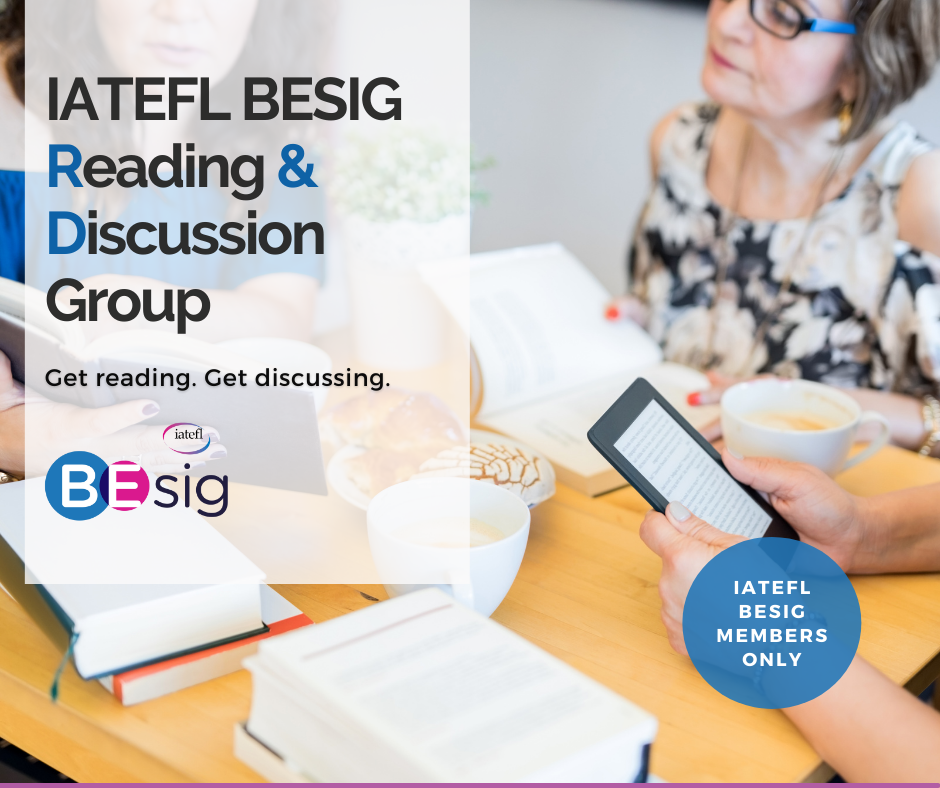 The IATEFL BESIG Break Room
Dates: every 2nd and last Wednesday of the month
Need a break? Well, slip on your slippers, grab a coffee or tea, get a donut and slip on into the Break Room, a new feature from the IATEFL BESIG is back.
The committee would like to invite members and non-members to join us in online networking meetings. The idea is to provide a platform where both can meet up informally, and chat about life, the universe and everything. If lots of people turn up it will be easy to split into smaller break-out rooms and chat in smaller groups. A great chance to catch up with IATEFL BESIG friends and make new ones.
Just click on the right Wednesday below to enter the Break Room.
2nd Wednesday of the month at 10:00 UK time (10:00 UTC)
IATEFL BESIG Swap Shop
.
Upcoming Date: TBA
Come by and share your ideas for activities for the BE classroom. The more ideas we get, the better. Bring your idea, a doc, a pdf, a link, whatever but come and see why IATEFL BESIG means business.
Join us to find your favourites and be sure to bring your own to share!
Please note, this event is exclusive to members and the joining link will be posted on the day in the Members-Only area of our website. No registration is needed.
More info? Go to the Members-Only area.