IATEFL BESIG runs a number of events each year, our biggest being our Annual Conference, which takes place every November.
We also play a very active role in IATEFL's Annual Conference, which takes place in the UK every April or May. There we organize a Pre-Conference Event, as well as a full business English programme day, the Showcase, comprising talks and workshops on a wide range of business English topics and an Open Forum for members to get to know each other.
Further opportunities to benefit from the work of practitioners in all aspects of business English provided by our frequent online events.
Scroll down to see our upcoming face-to-face events.
Click here to see our past events.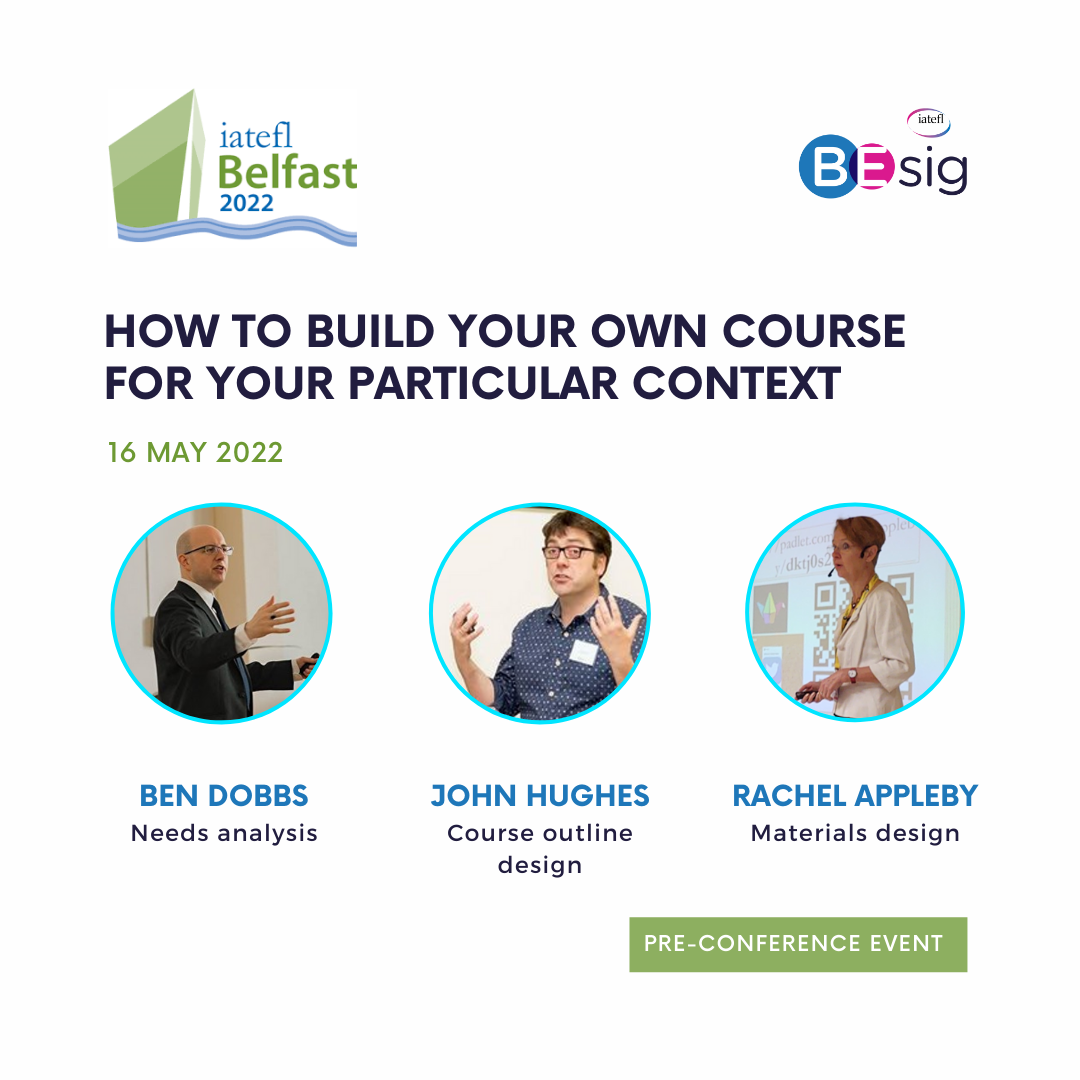 We are pleased to announce IATEFL BESIG's exciting and innovative PCE How to build your own course for your particular context with three industry experts in curriculum, course, and material design for an intensive, not-to-be-missed, one-day event on 16 May in Belfast. 
Throughout the day, our trainers – Ben Dobbs, John Hughes and Rachel Appleby – will share the key principles and essential steps towards creating a solid, cohesive learning journey for your learners on their path to success. The sessions are interspersed with focused group-work activities working to develop a course for particular contexts and course types. An important benefit of the interactive format of this event will be the practical support, suggestions and valuable feedback the trainers will provide, as well as the expertise of your fellow PCE participants. You will take away the know-how to devise, design and develop your own customised course that meets the needs of both you and your learners. The day will conclude with a panel discussion and Q&A.  
Whether you already have experience in course design and are looking for new inspiration, or you are relatively new to this area, sign up quickly for this hands-on workshop which will equip you with the confidence you need to build your own course for your unique circumstances. Register today, places are limited!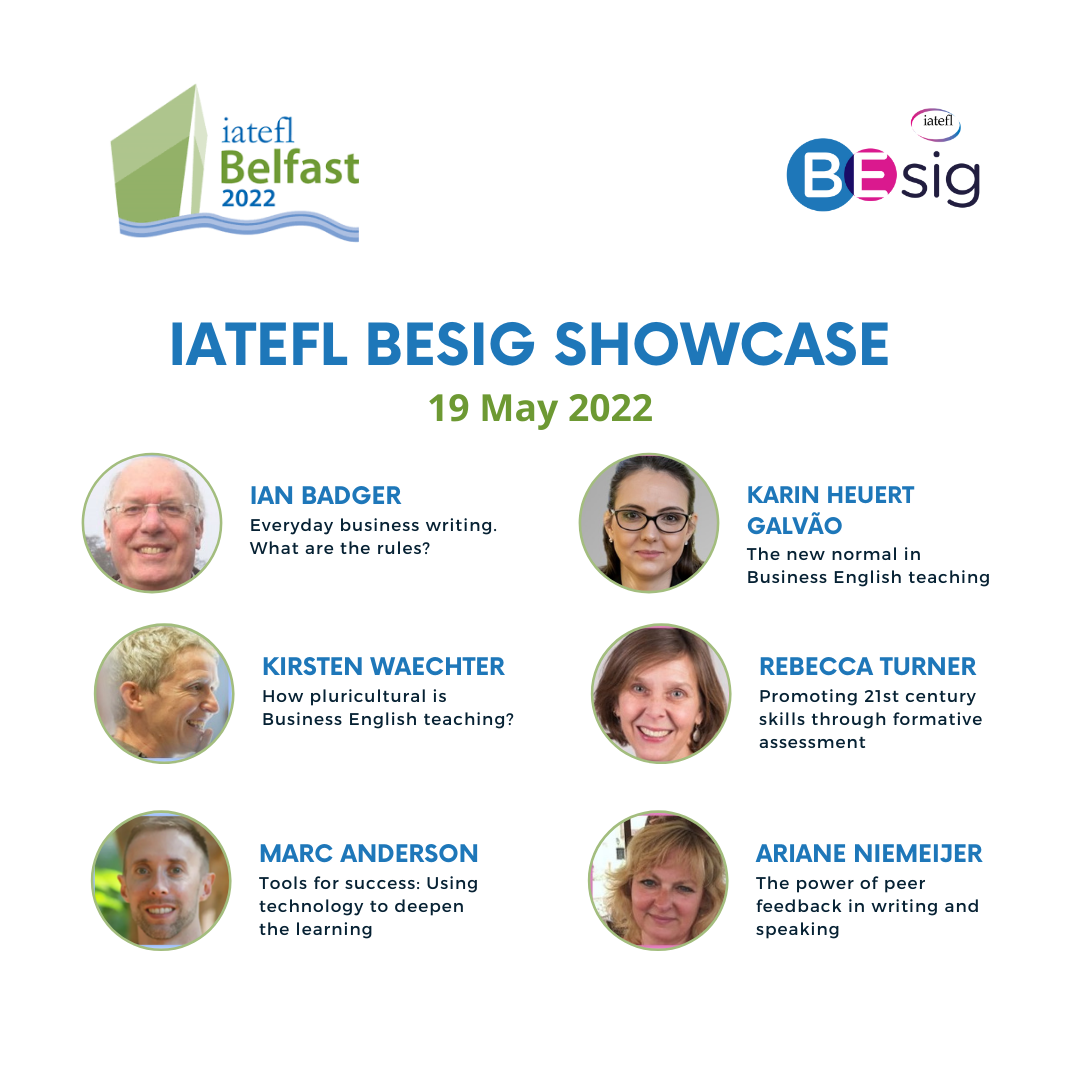 The IATEFL BESIG Showcase
Ian Badger –

Edit Everyday business writing. What are the rules?
In this interactive talk, I will present examples of everyday written exchanges (predominantly involving email and online chat) drawn from current international business environments. What makes for successful communication and how does communication go wrong? Our learners may have a knowledge of 'good' English but this does not necessarily equip them for the 'imperfect' world of business writing.
Kirsten Waechter –

How pluricultural is Business English teaching?
In this talk, we will explore how pluricultural Business English teaching is: Are we moving away from business etiquette rooted in Anglo-American business culture? And what do we need to teach so our learners can handle communication with global speakers, i.e. integrate the concept of pluriculturalism (CEFR)? Participants will learn strategies they can implement in their own teaching context.
Marc Anderson

–

Tools for success: Using technology to deepen the learning
This talk will present how easily available digital tools can be employed in the context of business English training to enhance the learning experience. Using case studies, the talk will explore the three main areas of Consistency, Customization, and Community to show how the tools contributed to the success of learners in language training programs in Japanese IT companies.
Rebecca Turner – Promoting 21st-century skills through formative assessment
This workshop draws on techniques and tasks used for formative assessment. The audience will be encouraged to reflect on the activities they participate in, and to identify which 21st-century skills are applied when undertaking these. Furthermore, we will discuss how these skills can be promoted through language instruction and become part of a course's learning outcomes.
Karin Heuert Galvão – The new normal in Business English teaching
There, it's 2022, and we live a New Normal. So if life has changed, why shouldn't BE change? In this talk, we'll delve into a fresh perspective on teaching BE and identify the Real Skills a BE trainer should have post-pandemic, inside and outside the (digital) classroom.
IATEFL BESIG committee –

Open Forum
Join us to learn what we do at your IATEFL BESIG. Find out about the current activities, issues, and trends and what we offer you as members. In this informal session, committee members will outline what they do, our future plans, and you will be able to ask questions, make comments and suggestions as we move towards the future.
Ariane Niemeijer –

The power of peer feedback in writing and speaking
Are you struggling to give all your students the feedback they need to improve their work? Have you tried peer feedback, but failed? Are your students afraid their peers won't give them feedback as well as you would? In this workshop, you'll experiment with giving and receiving peer feedback using rubrics that you, the student, helped draw up.