We are pleased to welcome you to the IATEFL BESIG website. Here we have the most complete, comprehensive, and current information and resources for business English practitioners. This collection of top talks, materials, and insights from the largest organization of BE professionals around the world is available to our valued members. We invite you to follow us on our social media channels and to take part in our online events to see what IATEFL BESIG offers you.
Mark your calendar for 17 April 2023 for the IATEFL BESIG Pre-conference Event, at the 56th IATEFL International Conference and Exhibition in Harrogate, UK. For more information, follow the link below.
Maria & Rob
IATEFL BESIG Joint Coordinators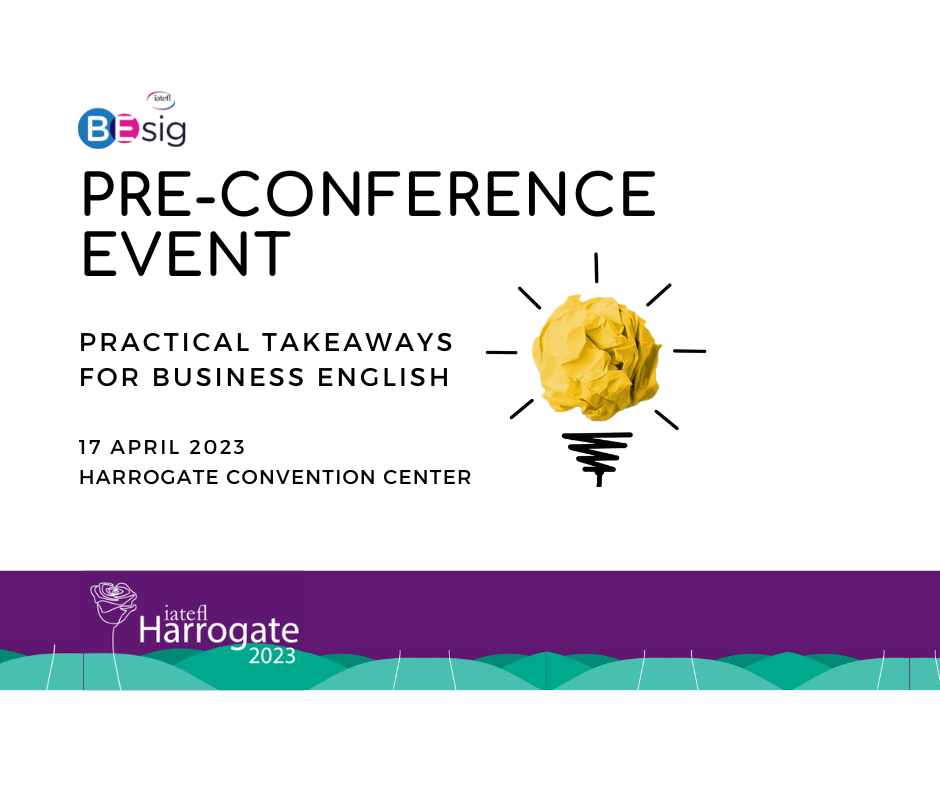 IATEFL BESIG PCE 2023: Take your pick: practical takeaways for Business English
Join IATEFL Business English Special Interest Group (BESIG) for their 2023 Pre-Conference Event on 17 April 2023.
At IATEFL BESIG's 2023 PCE, PCE means Practical Content for Everyone. 
Join us for a full day of face-to-face, interactive PCE which is brimming with relevant and meaningful activities suitable for your BE classroom. Be inspired by our international line-up of eight experienced BE professionals from a variety of teaching contexts, backgrounds and cultures. You will no doubt take away many new, innovative and practical ideas, and build your professional network in the process.
The first part of the programme consists of diverse mini-sessions featuring the 'BEst' activities for you to take away and use in your own classroom. Later in the day, we focus on your input and the PCE becomes a Peer Collaborative Exchange, where you develop and transform your ideas, along with your fellow BE practitioners, into concrete ready-to-use activities.   
Spaces are limited so be sure to register early.
For further details, click here.
Please note that online booking closes on 6 April 2023 at 16.00 UK time.