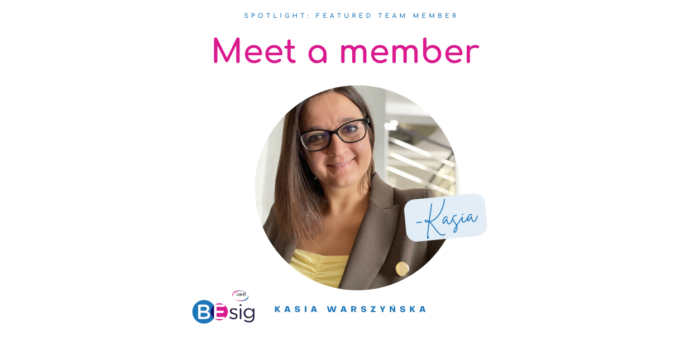 Bio
Kasia Warszyńska is a BE and GE Trainer with 13+ years of teaching experience. She runs the first and only language school for teachers in Poland. She strives to make teachers' lives easier by creating courses, games, and handouts for them to use. Kasia has also been presenting the above at various international conferences for the past seven years. Privately an avid traveler, wine enthusiast, and slave to two cats.
1. You own a language school which provides Business English courses and teacher training. How does being an IATEFL BESIG member benefit you?
First of all, I get to meet a lot of like-minded souls. I can exchange ideas with them, compare student needs, and see if my materials and methods also work with other trainers from different countries. BESIG also allows me to meet potential trainers I can start cooperating with. I've actually started a new, brilliant business relationship with another BESIGer in July! If all goes well and she enjoys the classes and ambitious students (teachers of English – yikes!), she will continue in the school year and start teaching English for Finances!
2. From your teacher training experience, what are English teachers like as students?
Let's clarify a bit first. My school and I deal with two major types of courses. We offer language courses for English teachers (yes, this is not a typo!) and we offer methodological courses to help trainers become even better educators. As students of English, teachers are an extremely demanding bunch but, at the same time, they are a brilliant group to teach. They demand a lot from the trainer and a lot from themselves, so they come prepared for all classes, are active, and learn new vocabulary easily. The discussions are mature and meaningful; and the trainers who run these courses love them even though it is quite a challenge sometimes! Methodological courses usually attract teachers who need a breath of fresh air in their classrooms. They are hungry for new ideas and methods, and I try to give them just that. (For example, with my BINGO methods for teaching adults).
3. How do you approach teaching pronunciation at your school? What is your favourite technique or activity with Business English learners?
I love teaching pronunciation to all my students, not only business clients! Just today, I worked on contracted 'will' forms with a group of C1 students. I love the surprised looks on their faces when they start analysing seemingly random images of an island and a shield, to later discover that such pictures can help them say 'Aisle do it tomorrow' instead of 'I WILL DO it tomorrow' or 'shield send me the report' instead of 'She will send me the report.' It's difficult to explain it in writing without my visuals, but I hope you get the idea. I also use my own materials to teach minimal pairs, /th/ sounds, connected speech… I could talk about that for hours!
4. Being a Business English trainer often means building your personal brand. What has worked best for you?
Ha ha, this is always the biggest problem. How to promote yourself and where? To be honest, I'm still learning the ropes… I guess, nowadays, I invest more time in promoting my language school for teachers than my language school for business clients. The competition on the market is huge and the problem in Poland is that usually the cheapest offer wins. My courses are not cheap, so it is difficult for me to get noticed with higher-than-average rates. Of course, once I land a client, they usually stay on for years (I've been in two companies for the past 6 years now). I guess word of mouth works. If you get that first client and they enjoy working with you, they will start recommending you to other HR specialists in different companies. Attending business conferences and local masterminds also helps. That is my goal for the second half of the year – to start doing more of those!
5. Do you feel like a 'movie star' being featured in an almost-three-million-subscriber YouTube channel? What are some challenging and fun sides of being a video presenter?
I used to be a vlogger and YouTuber way before it was popular. I actually taught English on my channel and had 10 thousand subscribers, believe it or not! At some point I stopped because I wasn't earning any money and I had to focus on what allowed me to survive financially. One or two years later, YouTube became a thing and other people started making money on what I had been doing for years. Oh well… So when I got the opportunity to work with Oxford Online English (OOE) as the only non-native among the presenters, it was a huge honour for me! Staring at the camera has always been easier for me than actually looking into someone's eyes, so I didn't fear it. I filmed everything in my room, I used an online teleprompter to read out the scripts and I stood in front of a green screen. It was always difficult to control my gestures. I couldn't extend my arms too much as they would go beyond the green screen and I would have to repeat the whole take. Conducting 'dialogues' was fun, too. My interlocutor was in a different country filming on another green screen, so I was basically talking to myself.
6. As a lot of us in the profession, you seem quite busy. How do you ensure a work-life balance?
Ha ha, I don't… My partner says I work too much. I use Facebook as my main platform: I advertise teacher courses there and communicate with potential clients. When are teachers free to talk? Usually in the evenings and on weekends so that is when I am often active. Since I now run my two schools, I don't teach that much anymore (maximum 10 hours per week). That gives me time to create teaching materials, create and organise courses, write my first book (I've recently finished a treasure trove of Conversation materials for teachers), advertise, do admin work, communicate with clients and teachers, and speak at various conferences. My work is very varied, so I am rarely bored. My timetable is also quite flexible which means I can take two or three days off and then just have 12-hour working days – I'm good with that and love that flexibility. This summer I took a workation in Florence. I did sightseeing, and I also had two business meetings and finished the last two chapters of my book.
7. Remember a great idea that you heard at an IATEFL.
There is so much! I think the sessions on critical thinking last year in Belfast really tickled my fancy! I also very much enjoyed my fellow colleague Kasia Wiącek's session on using word clouds in class which was at IATEFL Poznan in September 2022. She gave me plenty of activities and inspired me to create my own ideas on how to use word clouds in a GE and BE class!
Questions by Viktoryia Zelianko and Yulia Vetrava
Editing by Shweta Paropkari
MEET A MEMBER is available to IATEFL BESIG members and non-members alike but only features our current members. Another reason to join us and "BE with BESIG."