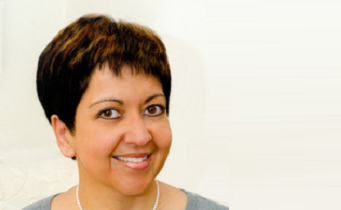 Shanthi Cumaraswamy Streat
Thanks for joining us again! I hope you've been enjoying this interview series! This week, we meet Shanthi Cumaraswamy Streat, another longstanding BESIG member who teaches business English through teaching core values such as empowerment and confidence building. Read on to find out how!
An independent online business communications trainer https://englishwithatwist.com/, I am "passionate about releasing international speakers of English from the shackles of speaking fluently (and all the stress and 'paralysis' it brings) and to help them gain the courage and skills to become daring and empowered business communicators in English." My mission: "To crush the grammar worrier and release the communication gladiator in international speakers of English"
How and why did you get into teaching?
By accident! When I was made redundant after 20 years in financial services in the UK, and I had no idea what to do. I definitely didn't want to stay in finance, and at 43 thought I would be too old to start afresh. But then I thought of teaching English and told myself, why not? So, I retrained and discovered a new and fulfilling career where I've transitioned from a freelancer to an online business owner. There never was a game plan.
Tell us a bit about the type of training you do "at home"?
My immersion programme is an opportunity for my clients to 'escape' their routine for 1 week and focus on becoming confident communicating at work in English. My clients don't need to speak more fluent English. They don't need more grammar and vocabulary lists. They need to learn to communicate with the English they already have. But to do that, they need to reflect, record and analyse the way they communicate before they can make the small but powerful changes that will boost their confidence and help them achieve their career goals.
My mission is to crush the grammar worrier and release the communication gladiator in international speakers of English
How have you benefitted from being a member of BESIG?
Being able to meet and learn from my peers has and continues to be invaluable. The webinars are informative and whilst not always applicable to the way I work, I love to learn about new trends and approaches particularly in connection with business communication skills.
What life/professional experiences have influenced your teaching?
My business career has had a huge influence in that it's helped me move away from business English coursebooks for one reason: for my teaching context, they don't reflect reality. Effective communication isn't about how many big words you have or perfect grammar. It's about speaking the language of your audience, actively listening to them, and tuning your ear to their accents and language level. No coursebook I've ever seen deals with that. That's the message I share with my clients and what I want them to focus on.
My cancer diagnosis also helped me deal with the changes that life can throw at you and the experience has helped me guide my clients through their career changes which can be terrifying and kill their confidence.
What was your experience like self-publishing your book?
I have self-published two books which are currently being formatted for Amazon. It's been a liberating experience especially for a solopreneur like me. It's allowed me to dare to dream of being an author without the constraints of being beholden to an editor and it's helped me gain a new audience. I hope to expand my reach once I have both books in kindle and paperback format.
How do you "empower" your students?
By making them do the work! By not giving them the answers. By making them find the answers themselves. So many clients come to me expecting me to pour 'knowledge' into their heads. They don't need more knowledge and if they do, I encourage them to seek it themselves with my guidance. They won't find any grammar or vocabulary worksheets here! Instead, I make them reflect on and analyse how they communicate. I tell them that they're the ones that who have to learn to communicate, not me. And they're only going to do that when they've developed self-awareness through reflection. Too many people want quick fixes when slow and steady is the only thing that works.
I give them the tools to find their way in their world. It's only by self-discovery that they'll be empowered.
How useful are face-to-face conferences (like BESIG in Berlin Oct 11-13) to you?
Extremely useful because it's my one opportunity to meet my peers and to socialize with them and exchange ideas. As an online business trainer and a solopreneur, it can get lonely so the interaction at the conferences are a life-saver. Plus, I get to visit beautiful cities!
If you would like to be interviewed and featured on the BESIG blog, send an email to Mandy at [email protected].
Questions and editing by Mandy Welfare
25th August 2019
MEET A MEMBER is available to IATEFL BESIG members and non-members alike but only features our current members. Another reason to join us and "BE with BESIG."