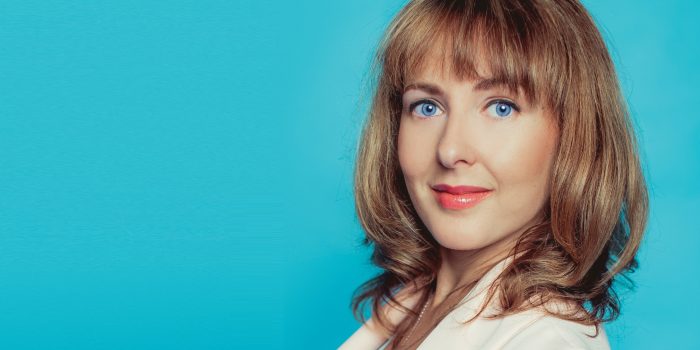 Galina Khinchuk
This week's interviewee made her mark at the conference in Iasi where she effortlessly managed to be everywhere at once as a conference photographer. Now, we get the chance to discover more about Galina Khinchuk including her views on intercultural competence in the classroom and the differences between teaching in Ukraine and Germany.
Being a freelance English trainer from Ukraine, Galina got interested in BE and ESP after moving to Berlin, Germany in 2014. She is passionate about learner motivation and bringing creativity to the classroom. She is also an active ELATABB and BESIG member. 
You were a first time BESIG conference attendee in Iasi, what were your initial impressions?
It was an extraordinary experience. It was my very first international conference and I was excited but worried. Nevertheless, attending not simply as a delegate but as a conference photographer (having won the BESIG photographer scholarship) allowed me to dive into the midst of events, opened all the doors and allowed me to not just meet all the speakers but also so many delegates, that it made me forget my worries and tiredness.
How does teaching business English different in Ukraine and Germany?
It is rather hard to compare since my teaching experience in Ukraine was very different to in Germany. Furthermore, preparing for the LCCI FTBE exam (a certificate for teachers of Business English) completely changed my teaching approach. I think it depends on so many factors and varies more from group to group and from trainer to trainer, than from one country to another. The Ukrainian market tends to have learner-centered teaching approach with small groups or one-to-one sessions. I think English training is highly demanded in IT. I have a wonderful BESIG friend, Oksana Hera, who teaches in Ukraine and has an amazing teaching approach which is tailored to every client. But I also know that unfortunately, not everyone has, or let's say, has found the access to the most recent research and don't know about international organisations like IATEFL, and don't have local groups like ELTABB (my Berlin TA). That is, in my opinion the main strength of trainers in Germany – access to constant professional development through local and international organisations.
You recently did your first webinar for BESIG, how did it go?
Thank you for this question! It was another first for me. I had a lot of friends and colleagues who supported me throughout my preparation and gave me valuable advice, e.g. not to be afraid to sound awkward or not to have the feeling that there is no feedback. I assured everyone, including myself, that it could never be more embarrassing than teaching a dance class to kindergarten children, trying not to lose their attention and having your own daughter correct your German! I need to add that I was lucky to have the actual audience and not just the screen in front of me as well as another BESIG member, Yuliya Shtaltovna, sitting next to me and helping me moderate. We received a lot of questions and were able to moderate an interesting discussion. Next time, I would try to make my talk a bit more interactive by adding a poll or two, but all in all I think it was a successful first attempt.
Your webinar was on intercultural communication. How do you incorporate this into your teaching?
The topic of intercultural communication first caught my attention a workshop Mandy, workshop did for ELTABB. It made me realise that we all incorporate it in our teaching to some extent. I think living in Berlin, such a bright and multi-cultural city, makes developing intercultural competences inevitable. My first aim is to raise awareness of interculturality, the necessity to be open to diversity and to be understanding to differences. It is always interesting to raise the questions of politeness, of being direct or evasive in the classroom. But let's not forget that it depends on the class, their needs and learning objectives.
What intercultural experiences have you faced since relocating to Germany with your family?
I come from Dnipro, a big, former industrial city, where most of the citizens are Slavic – Ukrainians, Russians, Belorussian. It is not touristy and you won't hear people speaking foreign languages in the street very often. Can you imagine how different Berlin is? The diversity is mesmerizing! Here you can hear people speaking any language, looking as different as possible, having different traditions and beliefs, all unique and wonderful. Even my dance group is very 'multi-culti', as Berliners say. My dance teacher is French, and we've had girls from France, Mexico, Germany and Ukraine in the group. Our local teaching association, ELTABB, has members from all over the world as well and there are children from over 30 different countries at my daughters' school. I am very happy that my children can grow up in this diversity. As for me, I embrace the diversity and enjoy every step of my intercultural way.
I've heard from a trusted source that you are always in control when it comes to classroom management. Do you have any tips on dealing with younger, pre-service business English students?
Your trusted source tends to exaggerate a bit! I don't have any magic tricks, I usually use trial and error. I first got excited about classroom management when doing my CELTA, because in Ukraine I taught mainly one-to-ones or very small groups. I learned several classroom management techniques there and picked up some more along the way. But my true inspiration are my children. Being a mother makes you learn a bit of everything – starting from being a cook, a singer, to an ambassador! They taught me to stay calm and keep trying. I currently teach EFL in vocational school training kindergarten teachers.
My learners are young adults all with different language levels and very different levels of motivation. The first thing I do – I build trust and try to increase motivation. I create a playful and sometimes competitive atmosphere. I pull out all the aces from up my sleeve to keep their attention – I award them with smilie stickers for active participation in class, I use BE approaches and always do a needs analysis (can be so tricky with pre-experienced learners), use my personal experience as a mother of kindergarten children, assign them projects, put them in groups, in pairs, in all possible variations. I have to admit, that it doesn't always work. When nothing works, I tell them anecdotes and remind them that even though I am a teacher, I am just a human being and we try something different next time.
How are you involved with the 2019 BESIG conference in Berlin?
This year is special not only because the conference coincides with my older daughter's 10th birthday, but I'm also attending as a speaker. I am extremely excited! I would like to thank Evan Frendo who inspired and encouraged me to be a speaker. I am going to talk more about my current job and how I successfully used simulations to train kindergarten teachers. I will share how I designed the course, how it worked with different groups, and we will look into other contexts. I'm looking forward to meeting a lot of familiar and new faces there!
If you would like to be interviewed and featured on the BESIG blog, send an email to Mandy at [email protected].
Questions and editing by Mandy Welfare
7th September 2019
MEET A MEMBER is available to IATEFL BESIG members and non-members alike but only features our current members. Another reason to join us and "BE with BESIG."