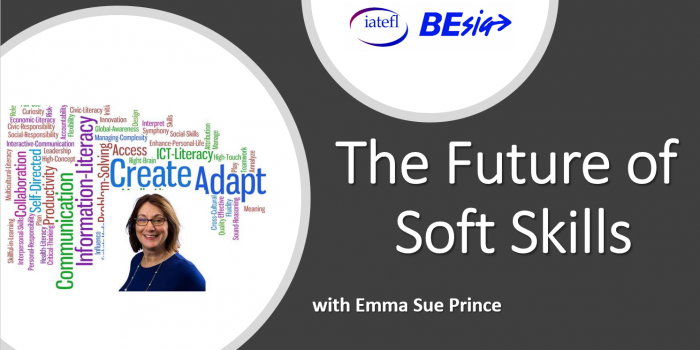 The Future of Soft Skills with Emma Sue Prince
In May, Emma Sue Prince delivered a wonderful webinar titled "The future of soft skills – which ones do we need to teach in the BE classroom?".  Emma Sue helped by discussing the history and definition of the Skills and what employers are looking for. Emma Sue is a qualified teacher and management development trainer, author and business consultant with expertise in soft skills, trainer training, materials design and qualification development. She is author of The Advantage, published by Pearson Business which redefines soft skills as personal competences we can all develop and nurture. During the webinar, Emma Sue looked at adaptability, empathy, critical thinking, integrity, being proactive, optimism and resilience, all buzzwords for 21st century soft skills. She discussed how to include them in the BE classroom and how to make use of them as a teacher. Emma Sue has been kind enough to share some additional resources with us.
The recording and resources are only available to BESIG members. One more reason to join the IATEFL BESIG.