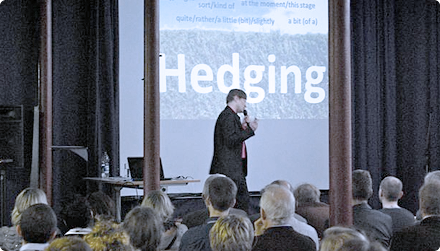 Teaching Business English in today's fast-moving business environment means being alert to the changes in the workplace and technology. If we keep our eyes open, we'll be able to adapt to these changes successfully and, what's more relevant, we'll be prepared for the next wave of change.
So, what does the future hold for Business English training? Let's look at the major trends and their impact on BE:
A new management and leadership model. The Millennials – the generation born between 1984 and 2004 – are already occupying managerial positions and leading cross-cultural teams. While they are well educated and hold high academic degrees, they need to develop the skills necessary to manage effectively and interact in a complex and diverse marketplace. This need is closely related to communication and language training.
Impact on BE: Teaching language structures is not enough to help learners interact effectively. To overcome this challenge, we'll need to integrate interpersonal and soft skills into the BE syllabus: for example, how to build trust, to be assertive, to give feedback, making effective questions, building relationships. This means working with both the linguistic and behavioral aspect of communicative competence.  To help learners acquire these communication skills, we need to adopt a coaching approach.
The Digital Natives. Generation Z – people born between the mid-1990s and 2010 – is entering the workforce. They are university students or newly graduated professionals who are recruited in internships and will soon be permanent staff. They are known as 'digital natives' born into our current Internet-connected environment. Since childhood, they've been exposed to English, either through web apps, digital tools or social media. Additionally, many of them have had bilingual high-school education or taken English courses at university. They come to the workplace with a higher level of English than previous generations.
Impact on BE: This may impact the course content. Starting from a higher-level language level base, we may see an increase in the demand for short, more specific courses; e.g. English for Accountants, Legal English. Likewise, the need for specific content and skills may be intertwined in the same course: e.g. teaching presentations for the legal area of a company. This change may open a window of opportunity for those trainers who wish to specialize in one area.
Technology will continue to evolve. Smart-phone technology will advance, offering connected screens and interactive tools to 'the on-the-go user' who will be able to do a wider range of activities – such as working, learning, banking – everywhere and anywhere. M-learning will replace e-learning.
Impact on BE: This technological progress will impact on how we deliver our classes. Whether we teach face-to-face or online, learners will demand flexible learning formats. We can offer flexibility, for example, by including mobile-learning apps that allow students to access material, practice speaking, listening and also to share their files and videos with the group (e.g. RabbleBrowser, Sandbox). From a training perspective, the challenge will be to use these tools meaningfully, i.e. in line with the teaching goals.
Cost maximization. To face the economic crises, companies are reducing their training and development budgets. There is a trend towards assigning shorter, personalized training to fewer cases and more economical web-based courses for larger populations of learners.
Impact on BE:  We'll probably see shorter, face-to-face courses and an increasing number of distance-teaching courses. In this context, blended learning packages will continue to be an excellent option for companies.
Globalization of business and English as a Lingua Franca. Since the onset of globalization, business deals are done between non-native speakers who use English as a Lingua Franca to communicate. This trend is expected to continue growing.
Impact on BE: Teaching intercultural aspects will be commonplace. In terms of language teaching, the focus will be on developing fluency and listening skills as well as working on quick response time.
There are, of course, other challenges and ways to adapt to market changes. We'd love to hear from you. If you would like to share your tips or ideas, please leave a comment below.