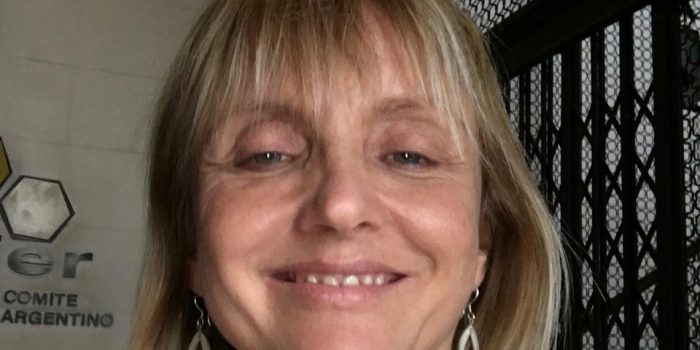 Virginia Lopez Grisola
BESIG members come from every corner of the world. So far, we've interviewed and "met" members based in Germany, India, Austria and Romania. This week, we're adding a country to the list: Argentina! Read on to find out Virginia's thoughts and experiences teaching Business English in Argentina, incorporating BELF in the classroom and what she has learned from working in ELT management.
Virginia is APIBA BESIG Joint Coordinator and former President and Treasurer at APIBA (Buenos Aires English Teacher Association). She is also the owner and director of studies of Interaction Language Studio, a company devoted to the teaching of Business English since 1995. She's been an English Grammar and Linguistics lecturer for 32 years at tertiary and university level institutions and is based in Buenos Aires, Argentina.
https://www.facebook.com/InteractionLS/
What changes in teaching business English have you seen throughout your teaching career?
When I started back in the early 80's in my hometown, Buenos Aires, BE was a sophisticated area which had just been born. It was a luxury for a few top executives who had the vision that learning English could be a great investment for their future careers some day when Latin America, particularly Argentina and Brazil, became part of the international business arena. Some decision makers were ahead of the times and set out to implement in-company English language programmes, anticipating the explosion of globalized markets. Therefore, by the early 90s, the teaching of English became a popular HR practice in most companies in Buenos Aires. At its inception, there were almost no published materials available and authentic stuff was non-existent in our context, so far from all the inner circle countries. If we were lucky to travel abroad, we would bring back anything from a restaurant menu, a newspaper or a brochure "pinched" from a bank. Realia! As a tourist in London, I would go around with a TDK cassette trying to lay my hands on a radio or TV set to just record programmes to bring home. That was golden material for us back then. Technology, I would say, has been the biggest change: the internet has constituted THE biggest revolution I've seen in my teaching career!
Who do you currently teach and who have you taught in the past?
I've always worn two hats in my professional life: a BE trainer and running my own language consultancy company Interaction Language Studio, where I've been a business trainer, a teacher trainer and an academic manager for 30 years now. I still teach quite a number of classes because I feel inspired by being in contact with real students. In fact, it's a win-win situation, where I learn from them about their business sectors and I teach them the language and skills they need to do well in their jobs.
The second hat is that of a teacher trainer and lecturer in English Grammar and Linguistics at Teacher Training College and Translator's courses in state-run tertiary and university level institutions. I've always participated in the academic life of ELT in Argentina since I love studying in the inspirational loneliness of my home studio, but without losing sight of teaching real students who need to get their jobs done today or people studying to become English language professionals.
What is your approach to teaching BELF?
Teaching BELF basically means teachers first have to change their conception of what language is. Is language a stable system, codified in Grammar books and dictionaries, the sole property of its native speakers? Is language learning a journey that starts at A1 and ends up when you supposedly arrive at native level, no matter how difficult it might be to define this final destination? Is the learner always a "deficient" speaker, described as "lacking" the desired proficiency, somebody who speaks an interlanguage, in other words a defective and transitional variety, which the learner should move away from, perpetually striving to reach this unattainable native speaker paradise? Opening your mind should come first if you are to even consider teaching BELF.
My approach? Using materials where speakers are not only natives, but also speakers of many different 'Englishes, correcting only those mistakes which impede communication in business settings, teaching skills that foster efficient communication and that help people get their jobs done, always aiming at de-mystifying the common belief that natives are the owners of the language and that ELF/BELF learners, even at B2 or C1 level, are good for nothing, forever in need of more idiomatic native-like vocabulary and ideal grammatical structures very few native speakers ever produce.
Have you ever taught outside of Argentina? If so, what difference have you noticed?
I've never taught outside my country, I'm afraid. I would have loved to have that experience. As a matter of fact, right after graduating as a teacher of English, I had the plan to do post-graduate studies in Linguistics in Canada and working there for a few years, but instead at 22 and 25 I became a mum of two incredible kids, now adults, so my family became my top priority and I finally never went away to Canada! I have no regrets, I did enjoy those days when I was a juggler trying to raise my kids, teach BE in-companies and to become a specialist in Grammar studying under my mentors in Argentina.
How do you make the most of your BESIG membership?
I do my best to participate in as many webinars as possible during the year, and when I cannot make it synchronically I watch the talks I missed afterwards. Additionally, I have been attending the IATEFL Annual Conference for the last 3 years and this year I'm considering going to the BESIG Annual Conference in Berlin, a dream I hope will come true for the first time! Really so looking forward to it!
What have you learnt from being involved in ELT management?
ELT management has been such a rewarding experience. When you become an academic manager, you have the chance to meet lots of novice and also experienced teachers and it's very moving to help them grow professionally. You must learn lots of other skills: from staff recruitment to admin and accounting issues you never knew you would be in charge of. What's more, you carry on learning from your staff, always keeping updated as to new trends in ELT. I do enjoy sitting in on lessons and then giving feedback to the teachers I've observed. I learn a lot from watching sessions delivered by other teachers. Another area I love working in is the organization of CPD. I feel so much gratitude for having had the chance to help so many colleagues grow academically, many of them my friends today. And some of them have become experts, both locally and internationally.
What do you enjoy about going to conferences/BE events?
I love the academic experience itself as well as the human side to it. Getting together with dear colleagues is fun and at the same time so inspiring! It's a few days when your brain gets bombarded by academic stimuli. Very, very exciting indeed! I enjoy getting away from my daily professional and family routine and embarking on a whole day of talks and workshops. It's like your daily life is put on hold for a few days and all you need to worry about is which talk to go to, which speaker you don't want to miss and, on a more frivolous note, what to have for lunch and where to go out at night! All this caring and sharing is fabulous! In a way it's like going back to school, to the happiest moments in your life when the whole thing boiled down to learning and laughing your heads off with your classmates.
If you would like to be interviewed and featured on the BESIG blog, send an email to Mandy at [email protected].
Questions and editing by Mandy Welfare
28th June 2019
MEET A MEMBER is available to IATEFL BESIG members and non-members alike but only features our current members. Another reason to join us and "BE with BESIG."