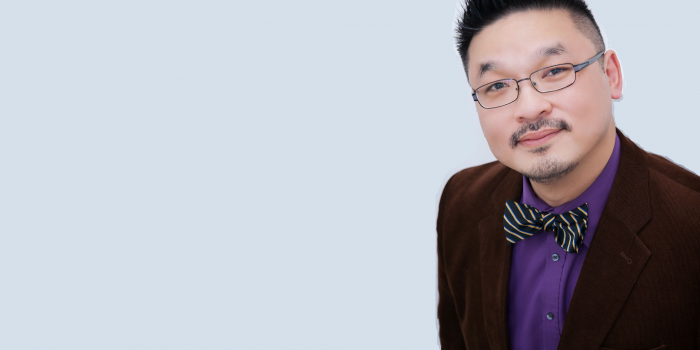 Vincent Wongaiham-Petersen
In this week's interview, we meet Vincent, a Hamburg-based teacher with an extremely diverse background. Read on to discover what motivated Vincent to join BESIG, the voluntary work he does and his tips on doing business in the Philippines.
Vincent has a BA in Communications and an MSc in Economics. Originally from the Philippines, he has been calling Hamburg his home away from home for the past 26 years. He did his CELTA in 2009 and has been teaching English since. He specializes in BE, ESP, and also does intercultural workshops as well as language certificate preparation courses.
What motivated you to join BESIG?
I've always liked seminars and workshops – you learn something new, get reminded of what you knew, and also learn to really know what you thought you knew. So it was an easy jump from attending local talks and seminars to going to my first international BESIG conference in Sitges in 2015. And let's face it, for freelancers living in their little professional and somewhat insular bubbles, BESIG is the best opportunity to get connected with others who are just as committed, passionate, and crazy about a profession I would consider a calling.
You are also very involved with HELTA. In your opinion, what makes a successful teaching association?
It's an association of local teachers and teaching institutions for local teachers and teaching institutions. So, a successful teaching association needs to be there with them for them. This means helping teachers improve their craft by organizing local workshops and seminars; animating and motivating them to contribute and help other members and realize that they not only have something to offer their students but also their fellow teachers; and helping them connect to the other hitherto unknown fellow teachers and teaching institutions out there.
You studied Communications and Economics. How does this help your Business English teaching practice?
I am a product of seemingly disparate worlds, growing up with and feeling at home in a number of very different cultures. Some people might say that this led to my also having seemingly mutually exclusive interests – I feel at home in a creative media environment and love using stories to communicate, but there's also definitely something to be said for the Spock-y, logical, number-filled world of economics. And I guess I instinctively bring both of these worlds into my teaching – I engage energetically with my students, always trying to make their learning fun and entertaining. Making them feel at ease when they're insecure about their language proficiency is a natural by-product of this. At the same time, I always try to explain things in an organized, systematic, and logical way – something Germans quite appreciate!
Do you ever teach students who have to communicate with people from your home country, the Philippines? What advice would you give them?
English is one of our official languages and in the Philippine world of business everyone naturally speaks it. Speaking Filipino (Tagalog) isn't necessary but it would naturally appeal to our sense of national pride and our openness to doing business with you if you tried. And that's what people sometimes fail to realize: Filipinos do business with you because they have a personal relationship with you. Everything is personal. It's not all about money. The world of business is an interconnected network of friends, colleagues, ex-colleagues, and even friends of colleagues and ex-colleagues. Not to mention relatives, classmates, and relatives of classmates and their colleagues and ex-colleagues! So my intercultural workshops on the Philippines focus on Filipino culture and understanding the values and beliefs that make the Philippines fascinatingly unique. It's an amalgamation of Spanish, Latin American, Chinese, American and Malayan cultures – in short, uniquely Filipino.
Who do your students generally need help communicating with in English?
It's always a very mixed bag and it shows how international things have become. Most would need English to speak to non-native speakers but there would also be the occasional native speaker thrown in at times just to confuse everyone. Sometimes the students would even be speaking to their German colleagues in English because there might be that one much beloved person in the conference call who doesn't speak German. Because of the very international aspect of their communication, I find myself bringing in intercultural competence training to the lessons, not only showing them how effective language use could lead to better communication but also how a better understanding of different values and beliefs could definitely better a business relationship.
Tell us about a class your particularly enjoyed teaching.
It's not any particular class. It's usually those lessons where I throw away what I've prepared for the day because of some casual conversation starter that leads to some related and relevant lexical chunks or grammatical elements. I then expand this with more related elements and then it somehow gets a life of its own, leading me from one to the other to another and so on. All the while, I'm rehashing and reusing these as much as I can and bringing them back full circle. By the end of the lesson, the students are actually using some of these in context and you've had an incomparable sugar rush that is hopefully as exhilarating for the students as it was for me!
Do you have a favourite game or activity you like to play in class?
There's a card game called snake oil that has always been a hit with any class I've played it with. In every round, one player is designated the buyer and all other players are sellers. The buyer draws from a stack of cards identifying what kind of buyer he or she is (e.g. a used car salesman, a secretary, etc.) and the sellers have to create a product to sell to the buyer using two of their five noun cards, in effect creating a product out of a compound word. Results are usually hilarious and even the most staid and dry student comes up with the most imaginative creations (maybe a dust-broom for the used car salesman or an alien-broom for the secretary?). I naturally have the buyers extoll the virtues and features of their product and the buyer has to give reasons why he or she chose a particular one. There's lots of fun to be had and lots of language generated for you to touch on or bring back in a future session.
If you would like to be interviewed and featured on the BESIG blog, send an email to Mandy at [email protected].
Questions and editing by Mandy Welfare
19th October 2019
MEET A MEMBER is available to IATEFL BESIG members and non-members alike but only features our current members. Another reason to join us and "BE with BESIG."