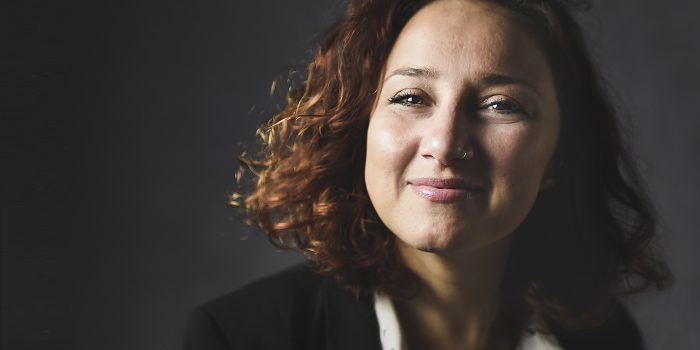 Sabrina Lucidi
Welcome to the first Meet a Member interview after the 2019 annual BESIG conference. Are you still on a conference high? The conference may be over for this year, but these interviews live on to give you your fortnightly fix of business English! This week's interview is with Sabrina Lucidi and will dive into the topic of business English training through online mediums and also technology in general.
 Bio: Sabrina is a language coach, BE trainer, and teacher trainer based in Italy, working mainly one-on-one, in-company, and privately, as well as in schools for the Trinity certificate preparation. With a BA in Languages in the Information Society, she holds most of her sessions online and runs workshops for fellow teachers to help them do the same. www.sabrinalucidi.it
What skills should an online business English trainer have?
The skills that an online BE trainer should have must satisfy one simple need: to design and deliver courses in the most user-friendly way for both the trainer and the clients. An online trainer needn't to be a geek, but having a good command of the right tools helps to prevent and/or overcome most technology-related glitches. Moreover, always keeping the client's needs in mind and drawing upon the vastness of the material found on the Internet, trainers ought to make the best use of their organizational skills to keep track of quality resources, in order to retrieve them easily at any time. Hence, being curious about trying and testing new productivity tools is a big advantage since it results in higher flexibility and the ability to respond to ever changing conditions and environments.
What makes teaching online different to teaching face to face?
Nowadays, I make use of the same software tools to manage both online and face-to-face sessions. Undoubtedly, working from home or wherever one may be around the world has a positive effect on both the trainer and the client's performance. Therefore, the main difference is about comfort and freedom: they boost motivation, productivity and speaking and, strictly for myself, reliability! Additionally, teaching online is more efficient: all the time saved not commuting can be spent on other more useful activities (like planning which in turn yields a better quality of service provided to the client). In my opinion, just because of its inherent degree of flexibility and customisation, online training is more cost-effective!
However, there are some limitations imposed by the digital medium that make an important difference, communication-wise: when technical hurdles hinder the verbal exchange and also in the limited perception of one's body language; consequently, when teaching online, facial expressions and voice tones must be used in a different and more conscious way.
How do you see the role of technology in BE training in the future?
Nowadays, most companies speak about "digital transformation", "industry 4.0", cybersecurity, AI, etc. As a matter of fact, BE is not just about the language anymore: it is about communication in its widest meaning. How much of our clients' international communications happen through technology? In most cases, all of it. To what extent will this affect the way we deliver our services? Well, I believe in an idea of technology that works for us, not against us: we can and should make the best of it by learning how to use it, in order to deliver more effective and quality training.
How have you benefitted from being a member of BESIG?
Even in such a short time, I have benefited considerably from being a member of BESIG in different ways. In the last couple of years, it has been an eye-opener and a continuous stimulation through its conferences, networking events, online webinars, and social networking activities. Last year in Iasi, I felt welcome and supported by this community of experts, colleagues, mentors, and friends who share their knowledge and help for the sake of mutual growth. The same was in Barcelona. The same in Berlin! Thanks to BESIG, my Personal Learning Network has widened and all the colleagues I am in contact with today are an invaluable source of exchange and growth… and they make me feel less alone – a freelancer in good company!
What were you looking forward to about this year's BESIG conference?
It was only my second conference. Last year I left Iasi with a lot of food for thought and a great sense of gratitude for the people that I could meet, listen to, and learn from. This year, I was looking forward to not only taking from the conference, but possibly also giving something in return, since I gave a workshop to share my experience about teaching online.
The line-up of speakers, the number of sessions and the variety of topics were impressive, and I feel humbled, honoured, and excited to have been a part of it!
How has the focus of your business English teaching changed or developed over the years?
My very first experience teaching English was a 6-month volunteering experience in Thailand 10 years ago. That same year, in Italy, I was hired by a training centre to teach adult classes. After 6 years, when the training centre's Government funds started decreasing drastically, so did my working hours. Fortunately, in the meantime, word of mouth brought me a good number of one-on-one students per week, both in-company and privately, online, and face-to-face, setting up my full-time freelance career. The different needs and expectations of each client made me question my methods and get curious about new ones, therefore I started to delve into the concept of (B)ELF as well as studying for the certification in Neuro Language Coaching. I am happy to say that the results and the feedback I have received so far are very rewarding.
A further development has been taking shape recently, translating my experience of teaching online into workshops for fellow teachers: now, I am motivated to help more and do it better!
What have been the biggest challenges you've faced in your ELT/ business English professional life?
I can't say to be an ambitious person, but a curious one. Yes, indeed! Nothing makes me more determined and motivated than my curiosity for new things. In my professional life, whenever an opportunity has arisen, this curiosity has taught me new skills and abilities, and tested my strengths and weaknesses. In this sense, every first time has been a challenge: the first class, the first online client, the first in-company coachee, even writing the first contract or issuing the first invoice, or attending the first conference as a speaker… and so on and so forth. Time after time, I keep discovering new things I am curious about, and feel motivated to go on.
However, on top of all this, I realise that I face the biggest challenge and the greatest satisfaction of all everyday: living out of my passions, speaking languages, travelling, teaching, helping people grow and achieve their goals!
If you would like to be interviewed and featured on the BESIG blog, send an email to Mandy at [email protected].
2nd November 2019
MEET A MEMBER is available to IATEFL BESIG members and non-members alike but only features our current members. Another reason to join us and "BE with BESIG."