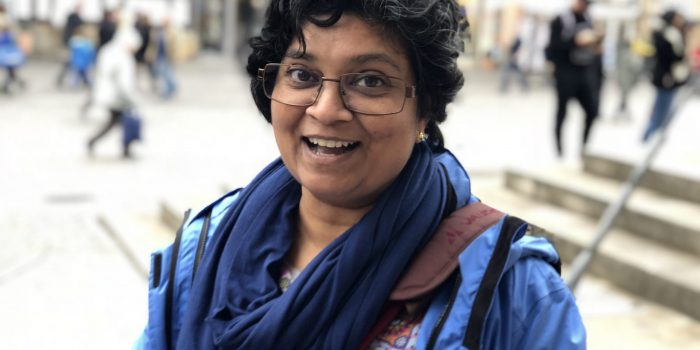 Uma Tadema
Hello and thanks for joining us again. This week, we will be meeting Uma Tadema, a relatively new IATEFL BESIG member but a trainer with passion, enthusiasm and some interesting business experience. Read on to find out more!
Bio: Uma Tadema is a business English trainer and the owner of English in Emden. After having worked in India, Germany, China and Australia in industries as varied as hospitality, aviation and administration, Uma started as an EFL teacher in 2003 and hasn't looked back since. She enjoys the interactivity and learner empowerment associated with teaching. www.englishinemden.de
What are your main takeaways from the 2020 IATEFL BESIG annual conference?
Let me start by saying that I am a new member and this was my first conference. People were extremely friendly and down to earth. It didn't matter if you had been to every IATEFL BESIG conference or were there for the first time, you and your views were welcome. The sheer variety of talks was a welcome surprise. We were truly spoilt for choice.
This IATEFL BESIG conference encouraged and challenged me to try out new things. My main takeaways were the ideas, networking and the glow of meeting supportive members of the profession. I loved the fact that the talks ranged from neurolinguistics to LinkedIn to CPD and people from all over the world not only attended but also presented papers, volunteered and worked together for a common goal.
Do you incorporate intercultural aspects of Indian business communication in your classes? What issues have you addressed with your students relating to these?
I try to incorporate intercultural aspects in general, thanks to having lived in three continents. One issue which comes up quite often is stereotyping. Another is reading between the lines of written or oral communication.
It is really helpful when the class has multilingual or multinational participants, but most of my learners have worked abroad themselves or work with people from different countries and this helps me to incorporate intercultural aspects in class.
How has your experience working in multinational teams helped your business English teaching practice?
Working in multinational teams has sensitised me to the dangers of "slotting" people into pigeonholes. It has also taught me that clear communication and goodwill go a really long way in creating a good working environment. The importance of non-verbal communication is something I emphasise to all learners, especially to members of multinational teams.
How do you encourage collaboration in your classes?
It could be something as simple as pair work or group work or it could be something complex like a mini project. One thing I make sure is that everyone in the group work has a chance to work with everyone else. This helps to strengthen the social bond in the group. I am a big believer of games/activities in the classroom and we as a class regularly allocate time for games. Story dice, role plays, telephone games, board games, online games… you name it, we've played it. It is very satisfying to see the different strengths of the learners coming to the fore during such activities.
What is your teaching philosophy and what keeps you motivated?
On the first day of Grade 3, our class teacher told us, "You are all gems, it's my job to polish you so that you can shine brightly". I try to see the potential in each learner and help them see it too. I strongly believe that people need to feel good about themselves, be motivated and feel comfortable in the classroom in order to enjoy the learning process.
My learners are my number one motivation. Life is full of surprises with them. I really enjoy the interactivity of live classes. Trying out new things also keeps me motivated.
How do you create bespoke and personalized classes?
By seeing learners as individuals and by balancing what they need with the expectations of an exam or what their employer expects from them. Oftentimes, it's a matter of listening to what is being said (or not said) and taking it from there. What I also work in during the sessions is regular feedback so that all of us are on the same page. Obviously, the larger the group size, the more difficult it is to personalise a course, but it can be done with a bit of flexibility.
To help me understand and deal with people and situations better, I have enrolled in a course to become an accredited coach.
You previously worked as a traffic officer in an airport. What elements of English and communication are most important when working as a traffic officer?
A traffic officer in the airline industry works in an airport and deals with many aspects of passenger interaction. It's a hectic environment on normal days and a highly stressful one on most days.
When it comes to English, the most important thing to note is that it does come in many forms. An international airport is a good example of English as a Lingua Franca. I think clear pronunciation, a pleasant tone and appropriateness are what come to mind.
When it comes to communication, I would definitely emphasise the non-verbal skills like gestures, body language and, most important of all, authenticity and the genuine wish to help people when working as a traffic officer.
Questions and editing by Mandy Welfare
12th of March 2021
MEET A MEMBER is available to IATEFL BESIG members and non-members alike but only features our current members. Another reason to join us and "BE with BESIG."