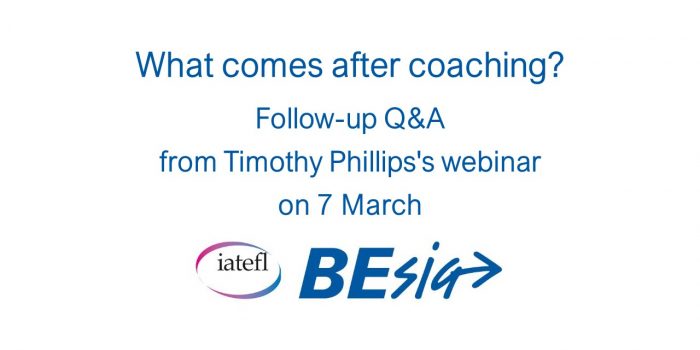 I was just about to start this follow-up blog to my webinar What comes after coaching?  when I received LinkedIn's Workplace Learning Report: 2021 Skill Building in the New World of Work. It's a must-read for anyone working in the Business English training world.
Here are a couple of key takeaways:
Hybrid workplaces are here to stay, and so …
Blended online learning – a mix of virtual instructor-led training and online training – will become the norm.
The Top 10 skills cited worldwide by 1,260 Learning & Development professionals for 2021 include:
#3 Communication across remote or distributed teams
#5 Cross-functional collaboration
#10 Creativity
These are all skills that we as Business English trainers come into touch with as part of our bread-and-butter work.
Ranked #1 and #2 this year are Resilience and Digital Fluency where resilience is not only about overcoming challenges but also about learning to thrive from that for the future.
So this report is not just about our clients, it's about us too. Resilience and Digital Fluency are two skills we as a profession need to be expert at if we're going to survive in the coming years.
The LinkedIn report gives us clear signposts of where our clients are heading. If we want to be part of their picture then we need the relevant training skills to support them. 2020 has been a wake-up call not only about the environment in which we train, but also about what we need to be training going forward.
What does this mean for us as Business English trainers?
I             Honest reflection
Now is the time for us as a profession to reflect on our strengths and our areas for development bearing in mind the opportunities that the market is beginning to offer. A number of reports (e.g. WEF Future of Jobs) in recent years corroborate the latest LinkedIn research. In particular, communication, collaboration and creativity are skills that are constantly cited – skills that we need to include in our training with purpose and focus.
II            Upskill ourselves practically, not academically
Where do we get this trainer-training? Let's not be academic about this.
Upskilling ourselves in soft skills training is no different to selecting programs in intercultural skills or in coaching, as many of us have done in recent years. There are numerous providers. Reputation of the provider, testimonials, suitability and price will as always be key factors determining which courses establish themselves amongst the BESIG community.
In future, in-company training delivery will be predominantly virtual, delivered according to team needs rather than common CEFR level, and will make demands on us to constantly change our hats as trainer, coach, facilitator, consultant. Understanding the challenges and differences between virtual and in-person communication has become essential for the effective international work of our clients.
III           Be aware of our strengths and sell them
Learning & Development professionals are currently busy with reskilling and upskilling their workforce. They are also on the look-out for capable communication trainers who have adapted to working in virtual environments.
To show the value we bring to our clients, it's essential that we now emphasize the behavioural and communicative nature of what we already do and less the linguistic:
Our understanding of the communication challenges of international work.
Our broad, flexible and creative pedagogical know-how: essential for effective online training.
Our expertise in supporting changes in learners' mindset: see our intercultural skills training.
Brainstorm the bagful of expertise which you can bring to the party! We need to develop this foundation to grow our own self-confidence and position ourselves with a clear profile.
Where to start?
Important at this stage is that we start to learn about key concepts and tools in the key skills areas now in demand. At the same time, start practising different facilitation approaches in a digital environment, whether in your role as Trainer, Facilitator, Coach or Consultant.  Become adept at changing these hats seamlessly using different online platforms.
The Alternative
In just the last two months I've received numerous invitations to webinars from established online language training providers. These are directed at HR directors explaining how online language learning can save substantial sums compared to traditional courses, simultaneously promoting the acceptance of online learning within the workforce. No prizes for guessing who's going to lose out!
95% of L&D directors in a recent Fosway survey stated that learning will not return to what it was before Covid-19. So now is the time to start accelerating your professional development so you can ensure future professional engagement.
Many of us have been bruised by the last 12 months. Professions come and go according to demand. The Business English trainer model is quickly being replaced by the Business Communication Trainer. We do it in English as our clients need that too.
If you have any thoughts or opinions on the above, I'd love to hear from you at:
[email protected] or www.linkedin.com/in/timophil/
Thank you!