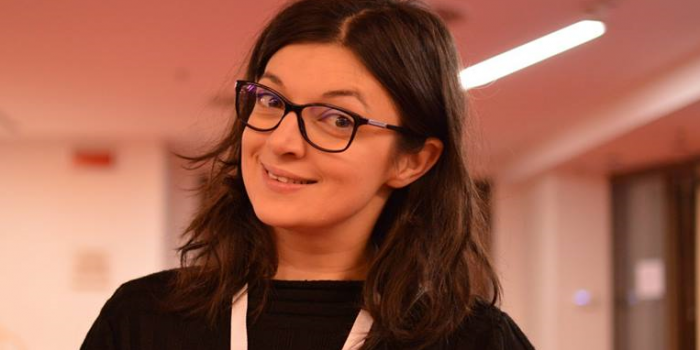 Madalina Tiron
This week, we will dive into another side of BESIG with an interview from a member who is not a traditional Business English teacher. Read on to find out more about the many areas BESIG caters to!
Madalina Tiron has a Bachelor Degree with a major in German Language and Literature and a minor in International Relations and European Studies. She's a German trainer and the centre manager of a private language school in Iasi, Romania.
 What is your job?
I'm a German teacher and the center manager of a private language school in Iasi, Romania. I work with all age groups, including in-company students. Two years ago, I became a TELC Examiner and Evaluator for International TELC German Exams. So, my job involves teaching, managing the school and assessing.
As a teacher of business German, why join BESIG?
First of all, I get the chance to stay up to date with the latest teaching practices and techniques. It doesn't matter that everything is in English – as language teachers we preach that everyone should learn another language, because it helps you regardless of your area of work. I teach German but the fact that I have a decent level of English has helped me grow as a teacher. Secondly, I get to see a different approach to language teaching. I also have the chance of meeting experienced professionals from whom I can learn. Informal learning is just as effective as formal learning. Plus, it's a really enjoyable and fun experience.
 What were your impressions of the BESIG conference in Iasi and IATEFL in Liverpool?
BESIG Iasi wasn't my first ELT conference, but it was my first BESIG Conference. I was amazed to see how many activities and approaches could be transferred from teaching business English to teaching business German. However, what made it truly special was the fact that I saw it from a different perspective: that of the organizer. I was part of the local team and I loved every minute of it. By the way, I encourage anyone who can or wants to help to volunteer for BESIG!
IATEFL Liverpool is the biggest conference I've attended. The lineup of speakers, the number of sessions and the variety of topics were really impressive.
What got you interested in teaching?
I love working with people in general and with my students in particular, because they are all so different in terms of age, language proficiency, life and professional experience. It never gets boring as there's always something new to learn. It's also very challenging, in a good way, because I always have something new to work on: new approaches, new activities, new strategies. I think I really am lucky because I get to work in a language school that really encourages and supports its teachers to grow professionally.
From your experience, are there similarities between teaching business German and business English?
If we look at the published materials, not really. Business English is taught as lingua franca, whereas business German is taught as a foreign language. For example, most business German materials are designed for people who are working or planning to work in Germany, not for cross-cultural teams that use German as a communication tool to get the job done. That is why I started using materials designed for business English as an inspiration and adapt them for business German. Of course, I'm not the first who's done this. Herbert Puchta and Mario Rinvolucri published a book a few years ago Multiple Intelligenzen im DaF-Unterricht that includes lots of activities for German classes that were presented at ELT Conferences in the past years.
Tell us about one of your favourite classes? (Who are the students? Why are they learning business German? Why do you like teaching them so much?)
I love all my classes, each of them is special to me, but at this moment I really enjoy working with one particular group of students. They come from different cultural backgrounds, so the class is not monolingual, which is something we don't get very often in Iasi. They all use German on a daily basis at work and wish to improve their oral skills. We do lots of engaging and challenging activities that help them improve their German.
How important is it for your students to learn intercultural competence?
Intercultural competence should play a key role in language teaching, because language is influenced by culture. I remember my first time in Germany, I really had some difficulties, not because of the language, but because of the cultural aspect related to it, for example the local greeting. Miscommunication happens all the time and it's not always because of a language barrier. Many of my students find this topic interesting, as they've had the experience abroad and found out what can go wrong the hard way. Sharing their experiences in class is very valuable and highlights the difficulties people have when interacting with other cultures.
Thanks a lot, Madalina, for an intriguing interview! If you would like to be interviewed and featured on the BESIG blog, send an email to Mandy at [email protected].
Questions and editing by Mandy Welfare
13th June 2019
MEET A MEMBER is available to IATEFL BESIG members and non-members alike but only features our current members. Another reason to join us and "BE with BESIG."