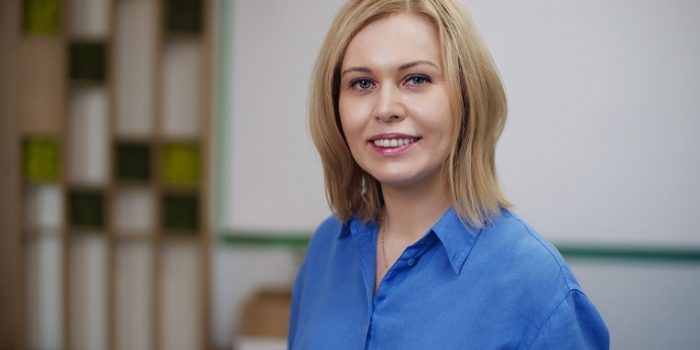 Olga Skliar
Thanks for joining us again to get to know another business English colleague. This week, I'd like to introduce Olga, a trainer, academic and activist who talks about her teaching context in Sofia and across Europe, as well as how BESIG's online presence convinced her to join. Have you ever sat down and thought about your teacher identity with regards to NEST or NNEST, or local vs foreigner in the country where you are teaching? Olga dedicated her PhD research to the topic and I think you'll find her musings on the matter of particular interest. So, read on and enjoy getting to know this week's BESIG member. 
Bio: Olga is a BE and ESP trainer and language coach based in Sofia, Bulgaria. She graduated from the department of English Philology and holds an MA and PhD in Language Pedagogy. She has worked extensively with students from different lingua-cultural backgrounds at a number of international schools, language education centres and businesses in Bulgaria, Kyrgyzstan, Turkey, and France. She is a co-founder of an events and training centre, serving as a venue for physical and virtual events, workshops and teaching and as a gathering point for professionals, businesses, educators and motivational speakers. https://www.launchee.space/
When and why did you join BESIG?
A few years ago, I came across the official IATEFL BESIG Facebook page and immediately got carried away by its quality and original content. BESIG's highly professional Online Team is very active and keep the page well updated with great stuff, i.e. online events, interesting articles, and engaging discussions on various BE topics. So, having enjoyed its digital content, when it came time to register for the IATEFL BESIG Annual Conference in Berlin, I willingly joined BESIG. 
What were your impressions of the BESIG conference in Berlin?
When attending international conferences, it usually feels like the enthusiasm of the first days eventually decreases as the end of a conference approaches, and the majority of attendees for one reason or another leave earlier on the final day. This was not the case for the BESIG conference in Berlin! It kept its attendees interested and motivated from the first to the last moment. It was a rewarding and professionally fulfilling experience where I met a lot of passionate BE educators from all over the world, expanded my network, engaged in exciting and thought-provoking discourse within the BE teaching community. 
What is the topic of your PhD and what drove you to tackle that topic?
I focused on English instructors' identities in terms of their self-categorization as native (NEST) versus non-native English-speaking teachers (NNEST) and as locals versus foreigners in their country of teaching. The study was also about English learners' perspectives on NESTs and NNESTs and their personal observations regarding different English instructors' teaching and target language use. The problem is that the ideology of native-speakerism is deeply rooted in the psyche of ELT, and is consciously and unconsciously reproduced by various participants in numerous English language learning contexts. A strong motivation for the study was grounded in my personal experience as an English language teacher and learner. The purpose was to extend the findings of the previous research focusing on NESTs and NNESTs, thus contributing to the positive change in authoritative concepts underlying ELT and making our field free of biased ideologies. 
For example, it was interesting to find out that both NESTs and NNESTs tend to perceive themselves as more prototypical to a positive superordinate "good English teacher" category. And students' attitudes to their English teachers are formed under the influence of various conditions, and their teacher's native or nonnative English speaker's identity is just one among a wide range of relevant factors potentially contributing to students' attitudes towards their teacher, like, for instance, students' level of English proficiency, expected grade, teacher's communication skills, teaching style, and appearance.
Tell us a bit about where and who you teach.
Bulgaria is a growing Eastern European economy; multiple foreign corporations continue to enter this country and plenty of local companies are moving into the international arena. During the 5 years I've spent here, I have mainly worked with businesses with international links and locations and whose employees, in order to improve their personal or team performance, needed to increase intercultural competence and ability to interact English-speaking communities with multiple dialects, develop general accuracy and fluency across various job-related English language skills. Most of the focus has been on professional communication training, specifically, presentation and public speaking skills, participating in conference calls, leading meetings, negotiating, debating, and networking.
How do you help students develop their public speaking skills?
I try to integrate all important aspects of public speaking skills and provide effective training in the stages of speech preparation and delivery. The initial step is to become a good observer, i.e. watching others performing speeches, for example TED speakers, analysing speaker motivation and techniques, discussing what makes a particular speaker interesting and compelling, and vice versa. In the process of speech preparation, we set consistent presentation goals, clarify who the target audience is, create appealing content, and look at the most effective ways of delivering a message. Furthermore, we practice oratory skills in realistic environments. Doing supporting activities encouraging oral expression development, presenting in pairs and to the whole class, video-recording, analysing their own video-recorded speeches for better self-reflection and deeper understanding of what needs to be improved, and also getting constructive peer and instructor's feedback are the major steps in building my students' confidence, self-esteem, and positive attitudes towards public speaking. I also systematically collect their feedback on speech activities and assignments. For example, the majority of my students stated that, although initially they were not very enthusiastic about speaking in front of the camera, subsequent analysis of their video data increased awareness of their specific weaknesses and facilitated self-directed learning. 
Tell us about a challenge you have overcome in your career as a teacher?
Every time I move to a new country, I naturally deal with language, cultural, and instructional challenges. Being a foreign teacher in a country, not sharing the same native language and culture with your students, can appear difficult at the beginning. However, the more you teach abroad, the faster the integration into a new culture takes place. I highly value the experience of working across different cultures and perceive cultural flexibility as an asset and an objective of development.
The 2020 annual BESIG conference is online. What topics would you like to see in presentations?
I would like to see more studies in the field of ELF (English as a Lingua Franca), particularly business and professional discourse analysis. It would be very interesting to observe how various communicative tasks are accomplished through ELF in multinational business contexts.
Questions and editing by Mandy Welfare
18th of August 2020
MEET A MEMBER is available to IATEFL BESIG members and non-members alike but only features our current members. Another reason to join us and "BE with BESIG."