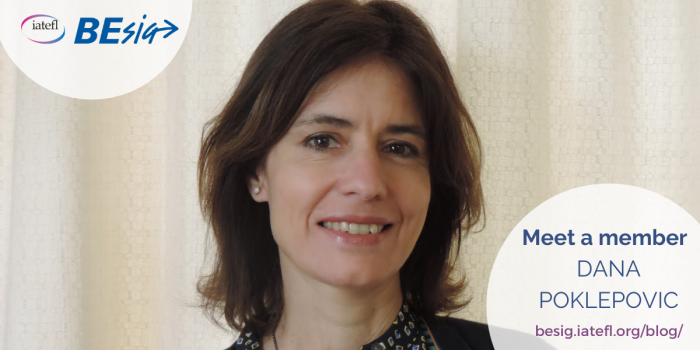 Dana Poklepovic
Welcome back! This week, we have a very special and long-awaited interview with a member who has been at the heart of IATEFL BESIG for quite some time. Many of us know Dana Poklepovic from her recent term as Joint Coordinator, and I'm excited to present you with this interview so you can find out a bit more about Dana's projects, passions and PhD!
Bio: Dana Poklepovic is a business English trainer, certified ontological and Conversational Intelligence coach and inclusive education consultant. Dana has been an IATEFL BESIG member since 2011. www.dpldh.com
You stepped down from the IATEFL BESIG committee last year after being joint coordinator and previously on the BOT team! Can you tell us about the roles you had and what your highlights were?
My first role on the BOT team was in the weekend workshops. I kept track of the chat, helped attendees with technical issues, gathered questions for the Q&A, those kinds of tasks. I was also involved in the organization of the 2015 and 2017 Online Symposiums where I liaised with other business English SIGs across the world, like India, Hungary and Argentina, looked for potential speakers, organized the slots and hosted or co-hosted the event. In 2014 and 2016, together with Mercedes Viola, we held two satellite events in Buenos Aires and Montevideo during the IATEFL BESIG Summer Symposiums. My last job on the BOT was the blog (your job Mandy!). But it only lasted for a few months. At that time, IATEFL BESIG's website was not as user-friendly as it is now, and I remember we had to send the posts to the tech support and wait until they added them to the website. So, the committee decided to renew the site and the blog was cancelled. Now that I think back, I worked a lot!!
Immediately after this, Evan Frendo and I became Joint Coordinators. When we took over, we organized our committee and distributed our own tasks. Since Evan is based in Europe, he focused mainly on dealing with Head Office and liaising with other SIGs, as well as various other coordination tasks. I was largely in charge of the internal stuff that went on within the committee, such as organizing and chairing committee meetings, working hand-in-hand with the publication and the BOT teams. Evan and I talked almost every day, just to keep each other in the picture and discuss what was happening. You know, there is a lot of work behind the scenes at IATEFL BESIG!  The highlights, in my opinion, were launching the new website, making the newsletter digital and taking IATEFL BESIG into Asia and South America. IATEFL BESIG was present in conferences in Japan, India and Argentina. All of this was possible thanks to the hard work of our committee and team of volunteers.
How has IATEFL BESIG changed over the years and how do you hope it will develop on the future?
When I joined in 2011, IATEFL BESIG was mainly focused on the European market needs. This was, obviously, reasonable because IATEFL BESIG was originally set up in Germany and most of its members came from Europe. However, IATEFL BESIG's expansion and collaboration with other business English SIGs across the world brought about new perspectives. We began to share practices with teachers from other markets and learn about their students' needs. All this meant that the BOT team became more and more relevant in linking IATEFL BESIG members. And there were various new perspectives in the profession of BE teaching, such as coaching, BELF, inclusion, technology and so on which were being increasingly reflected in the talks and presentations in our conferences.
Now, like most organizations across the world, IATEFL BESIG is facing the challenges of the digital revolution. There are more and more free events and materials offered online and this is a threat. As an organization, I believe we need to rethink and even redesign our value offer to engage members and make the difference. Many teachers are losing their traditional jobs to digital platforms and artificial intelligence language learning devices. They are struggling to remain competitive and reinvent themselves in this scenario. At the same time, some learners no longer need language teaching but specific communication skills training, like leadership and collaboration skills. These are some areas where IATEFL BESIG may focus their offer. IATEFL BESIG is the longest standing business English SIG, and has created a name for itself all around the world. We have surfed many waves, and I'm confident we are skilled to face this one.
Since the corona pandemic, you've changed the focus of your business. Can you tell us about that?
Yes, I've added the diversity and inclusion area to my consultancy. My third son suffers from a loss of hearing and I was already coaching families of children with disabilities before the pandemic and slowly entering the field of inclusion in companies. Basically, what I saw was that children with special needs are attending mainstream education, like my son, and that they will be working in the near future and probably learning business English. I began to think how to make classes inclusive and make everyone feel welcome irrespective of their capacities, background, gender or ethnicity. I attended a postgraduate program on inclusive education where I learnt how to accommodate activities and materials using universal learning design and also studied special learning needs. I still felt that the soft part was missing; I mean, how the trainer creates a truly inclusive environment and engages all learners alike. So, I blended this ´hard knowledge´ with my coaching background and designed a program called Coaching for Inclusive Practices. Now, I train schools, teachers and companies on how to become more inclusive.
You run a language school, volunteer, have three kids; how do you manage your time?
Good question Mandy…  it is not easy! I think I am quite organized as I always try to maximize the use of time. Like all mothers, I run from one place to another; so instead of ´learning on the go´ I ´work on the go´. I've been working remotely since, well, before the pandemic because I used to take work with me everywhere: to the pediatrician or even while I waited at the school door. My car was like my office, especially when I was joint coordinator and was in a time zone difference to the rest of the committee. I also have to admit that I've always had my husband's help at home and his support when I am on a business trip or attending a conference.
How can business English teachers encourage inclusive practices both in their classes and in their students' companies?
We have to start with ourselves. This means identifying our own thoughts and beliefs about disability and diversity in general. Each of us is the result of an education system, family and cultural values, the place where we were brought up, etc. Check these biases and keep them under control. Try to identify barriers in your teaching and classroom environment. Barriers are both physical and emotional. As teachers we try to be objective, but we often have expectations about learners' performance.
When you have a student with a disability, or learning difficulty, like dyslexia, sometimes, it's a good idea to ask HR if the company has an accessibility program and adjust your lessons accordingly.
Diversity, Equity and Inclusion (DEI) – as it is called today – is a field that has a lot of language content which can easily be exploited in class. There are many things teachers can do. They can read their clients' corporate DEI policies and work with them in class. They can discuss biases with their learners, and how they manage them when they attend meetings or work in teams. They can teach them how to communicate using inclusive language. They can keep an eye on the diversity calendar and celebrate relevant dates. And they can try to leverage the diversity in their groups by having learners share their realities through storytelling activities.
What was the focus of your PhD and how did the process of completing it change you as a teacher?
My thesis was about how the field of specialization influences the manner in which corporate students learn business English and how teachers can enhance their teaching with this information. For example, while learners from the finance area want sessions to be more structured, those from marketing prefer a more relaxed style. The former feel comfortable with framework activities and the latter prefer more cooperative work. After extensive research, I found out that we could arrange their working styles into three major areas. Then I crossed this information with the findings on how they like to learn business English. Based on a matrix, I designed a range of approaches that best engage students from these different fields and how to apply this in mixed groups. Let me tell you, however, that this research was done many years ago. Organizational work has changed a lot since then and today teams are cross-functional, global and diverse. They share processes and agile methodologies; I'm pretty sure that there is room to build on these findings and update the method. Pursuing a PhD is a fascinating and challenging process. On the professional side, it gave me the opportunity to share it locally and internationally. On the personal side, it was a challenge because at that time we moved to another country and I also had my second child.
You currently live in Argentina, but you've lived across the world. What did you learn from the different places you lived and worked in?
I think that living abroad and learning about other cultures and languages over many years made me the person I am today. It opened my mind to understanding and respecting different realities. Something interesting I have learnt is that I feel at home everywhere!
Questions by Mandy Welfare
Editing by Christopher Chandler
26th July 2021
MEET A MEMBER is available to IATEFL BESIG members and non-members alike but only features our current members. Another reason to join us and "BE with BESIG."