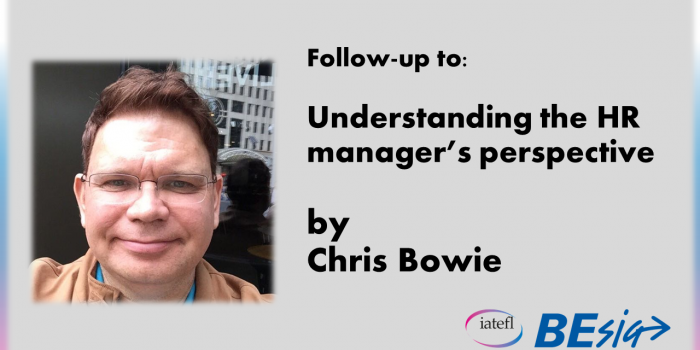 I was honoured that Evan Frendo, the BESIG joint coordinator, invited me to give a webinar on 12 July 2020.  Oksana and BOT were also helpful throughout the whole process.  Last but not least, the audience were supportive and contributed a lot, adding to the value of the session.
I'll summarise what we discussed during the session and address the questions we didn't have time for at the end and I'll share some reading and research suggestions.
Focussing on performance
My webinar was about how BE practitioners can have more impact by working better with HR managers.  I discussed how focussing on performance when considering needs, objectives and measurement can give BE practitioners a better chance of doing what all good teachers want to do: make a difference to the lives their students.  In a business context, that means making it easier for them to do their jobs better and faster.
Examining the wider context to understand needs
When addressing needs, I outlined how focussing on the wider learning environment rather than just the training can help. That means looking beyond the course to things the learners can use alongside or after the course to help them learn (Pollock et al, 2015).  This ranges from self-access resources to social media platforms and other resources to make it easier for them to get helpful feedback or self-reflection (Lombardozzi, 2015).   But… the learners are unlikely to access them unless their supervisors, HR and others encourage them and make it as easy as possible for them to do so.  Working with the stakeholders is essential here.
Focussing on the learning environment isn't enough. Doing something in a language course is one thing, doing it during a stressful working day is another.  That's why the target group need performance support resources as well. A BE practitioner should consider what resources could help people use English in the midst of a stressful day, when they have many other things to focus on.  Our focus is on helping people do their jobs better and faster, not just on improving their skills and then hoping for the best.
But there's more…  There are other things the organisation does that may help or hinder performance and I covered them in detail during the webinar. The BE practitioner cannot control or even influence many of these 'performance environment' variables. But it's important to be aware of them and raise concerns with the HR manager, as these are likely to impact the staff performance and the success of the programme.
Motivation is critical; if the staff are unmotivated, no amount of training is going to help.  Understanding what is motivating and demotivating the participants at work will help the BE practitioner see what's holding them back (Pink, 2009). It's actors within the organisation who are responsible for dealing with motivation, but it'll help if the BE practitioner understands what's going on and can alert the HR manager if needed.
Objectives that work in organisations
We often see objectives as pertaining to the individuals.  But in an organisation, we have to consider the wider context, especially those stakeholders without whose support the objective will certainly fail.  We need to make sure our objectives are 'agreed' (supported) as well as being specific, measurable, realistic and time bound.
Our objectives should also be behavioural, in that they focus on what the target individual or group will actually do, rather than 'know' or even 'be able to do'.  Focussing on 'doing' means we have to focus on what support the individuals need on the job.
Measuring the real impact
Lastly, we looked at measurement, and again we need focus on what the target group should actually do when working.  Measuring what we did to support the learning transfer to the workplace can help us judge the impact of the intervention.
Bibliography:
Lombardozzi, C. (2015), Learning Environments by Design. ATD Press
Pink, D (2009) Drive: The surprising truth about that motivates us. Canongate
Pollock, R et al (2015), The Six Disciplines of Breakthrough Learning 3rd Edition. ATD Press
Questions we didn't have time for during the session. 
I was thrilled to see some great questions in the text chat.
Evan asked, "What if the HR manager just wants to 'arrange some English training'"?
Many HR managers may see arranging English training is one of the administrative tasks they have to perform.  As far as they're concerned, as long as the staff are satisfied with it and attendance is reasonable, everything is fine.
This puts you, as the service provider, in a precarious position.  If the organisation isn't measuring the value of your work, they'll perceive it only as a cost when it comes to trimming budgets.
Talking with the HR manager and other stakeholders about possible higher value outcomes may not change the way they perceive the current training course, but it might lay the groundwork for having a more meaningful conversation next time around.
Also, even if the HR manager perceives the course as a 'benefit' for the employees, you should talk about collecting data on things like staff engagement surveys and turnover.  Then you can design the course around those metrics by focussing things that will make the participants feel more comfortable at work: like building their confidence to speak up at meetings and have 'watercooler chats' with English speaking colleagues.
Just try to engineer a situation where you have a story to tell other than how much the participants enjoyed the course and the attendance rates.
Evan also asked: "In your context how much control / influence do the learners have? In lots of organisations, other stakeholders make the decisions".
The outcome and overall objectives are and should be set by the organisation.  You should hear alarm bells ringing if they want you to provide English training without any idea at all of what it's meant to achieve.
Clear and performance-based objectives also show the participants how relevant the intervention is to their needs.  Organisations want their staff to take charge of their own learning and involving the participants as stakeholders will encourage them to do that.  While the outcome is set by the senior stakeholders, the participants should have some input on the activities and methods for achieving the objectives.
Evan also asked: "Is there a clash between the organisation's focus on performance, and the learners personal needs / wants?"
Yes, there can be.  For example, the department heads focus on things they can see, like writing and speaking but ignore those 'invisible' things like listening and reading.
It's up to the BE practitioner, the language expert, to talk about receptive skills and how these could be impacting the staff's performance.  For example, some staff have to write reports after reading lengthy and complex hard copy documents. Helping staff with reading skills, tips and guides for speed reading and note taking could give the staff more time to write, because they've spent less time reading and re-reading.  In the case I'm thinking of, a note-taking template helped the staff to get and record the information they needed from hard-copy documents in less time. This is an example where we recognise that we're not going to turn them into proficient users overnight, but we can do things now to help them work more effectively with the language skills they currently have.
Isabel Escobar and Gabriella asked what HR managers are looking for in proposals. 
I can't speak for others working in L&D and HR, but for me, a big bonus is a programme that combines training, self-access learning resources and, where possible, performance support resources that staff can access on the job.
Alex Taylor asks for tips for measuring performance in larger organisations.
Large organisations collect and crunch data on pretty much everything.  But getting hold of that data isn't easy, especially in more siloed organisations.  It's vital to decide what data you'll need when designing the programme and have a clear idea how you're going to get it.  It might be better to use primary data you've collected yourself and/or persuaded the HR manager to collect for you.
The first step is to identify the performance gap and what's causing it.  The HR manager might be willing to do so but may feel uncertain how to proceed because they're not a language or communications expert.  By working with the HR manager, you can combine your experience and expertise and their inside knowledge of the organisation to find the root cause of the performance problem and a useful way to measure and address it.
Isabel Escobar asks: "Where do you look for consulting service suppliers?"
It's the HR/L&D manager's job to consult with the departments concerned to find the performance gap and suggest a way to solve it.  In areas involving English as a working language and/or communication issues, they may need your help and/or encouragement.
Searching online for 'performance consulting' should get you started.  Nigel Harrison offers a lot on performance consulting.  He also has a self-published book called 'How to be a True Business Partner by Performance Consulting (2008).
Further reading suggestions
Gawande, A, (2010), The Checklist Manifesto: How to get things right. Profile Books
Griffin, R (2014) Complete Training Evaluation: The comprehensive guide to measuring return on investment. Profile books
Lombardozzi, C. (2015), Learning Environments by Design. ATD Press
Pink, D (2009) Drive: The surprising truth about that motivates us. Canongate
Pollock, R et al (2015), The Six Disciplines of Breakthrough Learning 3rd ATD Press
Shackleton-Jones, N (2019), How People Learn: Designing education and training that works to improve performance. KoganPage
Shepherd, C (2015), More Than Blended Learning: Designing world-class learning interventions. More Than Blended Learning Company