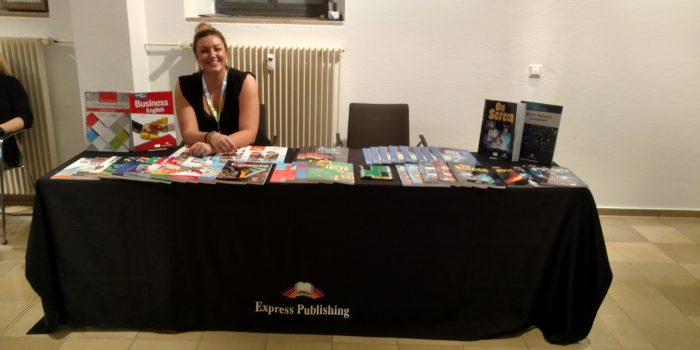 Photo – Kristy Kors at the IATEFL BESIG annual conference 2019 in Berlin
Express Publishing
New interview series, new perspectives!  Our new Meet a Sponsor feature gives you the chance to read about sponsors' insights and experiences of being part of the BESIG community.  This week we revisit our 2019 Berlin conference with Express Publishing (Platinum sponsor) and Kristy Kors tells us about some trends and developments in ESP.
Company profile
Express Publishing was established in 1988.  During the last three decades of operation they have successfully managed to bridge the gap between methodology, technology and education.  The company has been growing steadily and today exports to 109 countries.  It has formed numerous strategic partnerships and 30 ministerial adoptions.  By combining modern technology and traditional teaching methods, Express Publishing strives to be innovative every step of the learning journey.  The company's mission is to excite, explore and excel.
Express has been a sponsor and exhibitor at various ELT events over the years.  What is special about IATEFL BESIG annual conferences?
I believe that IATEFL BESIG is where publishers, teachers and professionals all come together and get to know each other.  The exhibitors and the delegates have become a community where they share their thoughts with one another. The days are filled with incredible seminars and interesting discussions.
Kristy Kors was the friendly "face" of Express at IATEFL BESIG's 2019 conference in Berlin.  Who else was involved in organising the conference and how long did it take?
At Express Publishing we work as a team on all matters and projects so although I was the person representing the company at the IATEFL BESIG conference, our whole team pitched in. It usually takes a couple of months to organise any event since it requires both plenty of discussions in house and also a lot of communication with the administration of the event in question.
What were the most frequent questions and requests from conference delegates?
Most delegates usually ask for titles which would be most appropriate or useful for their class depending on what the ESP topic is.
How can conference delegates get the most from their time in the exhibition area?
I would suggest that all delegates take their time visiting the exhibitor stands, question the exhibitors about their products and try to establish which products best suit their needs in their classroom.  That's what we are there for after all.
What are the up-and-coming developments/trends in business English and ESP materials? How is Express responding?
For many years, Business English, Medical and Law were the three topics that came to mind when thinking of ESP; however, this is not the case anymore. Of course, these three topics are still a key part of the ESP industry but many other professions have become just as important within the ESP world.  A bigger variety of structured material is required which will cover various ESP professions. This is why Express Publishing created the Career Paths series covering over 90 titles ranging from Pet Care to Marine Engineering.
How has Express changed and developed since it was first established? 
As I mentioned in my answer above, Express Publishing has developed as a company alongside the ESP industry by providing a series of books with a big variety of professions to choose from. However, since we are talking about 21st century students, technology has also been taken into account when creating the most efficient components for both the teachers and students alike. Hence, all our ESP books are accompanied by a cross-platform application that allows students to have access to the digitised version of their book; the digitised version provides access to videos and audio on their phone, tablet or laptop. This of course is not just the case with ESP series but also with the general English series and titles too. As a publishing company we believe that in order for education to be efficient it must always take into consideration the needs and wants of students and the world they live in.
Questions by Maria Szugfil
Editing by Mike Canning and Mandy Welfare
11th April 2020