In addition to our face-to-face events, which take place throughout the year, IATEFL BESIG is very active online, organizing a full programme of webinars and other online events on a wide range of topics every year. In an effort to reach as wide an audience as possible, and to fulfil IATEFL's charitable mandate, these events are open and free to everyone.
The events are organised by the BESIG Online Team (BOT), often in partnership with other teaching associations from around the world.
Upcoming and recent events are listed below. An archive of past online events will be available soon.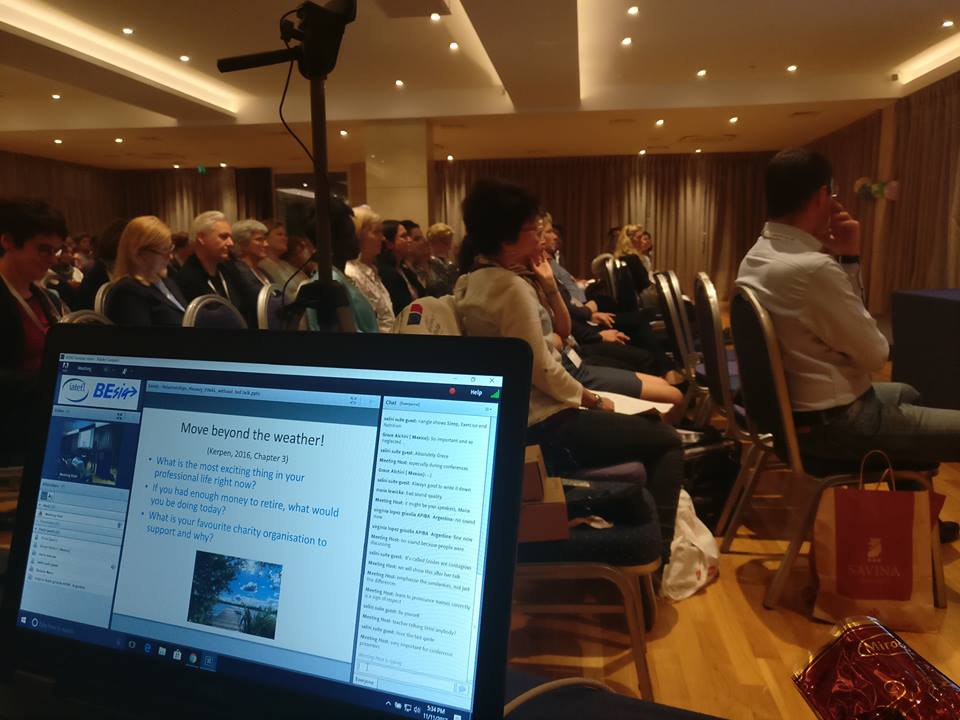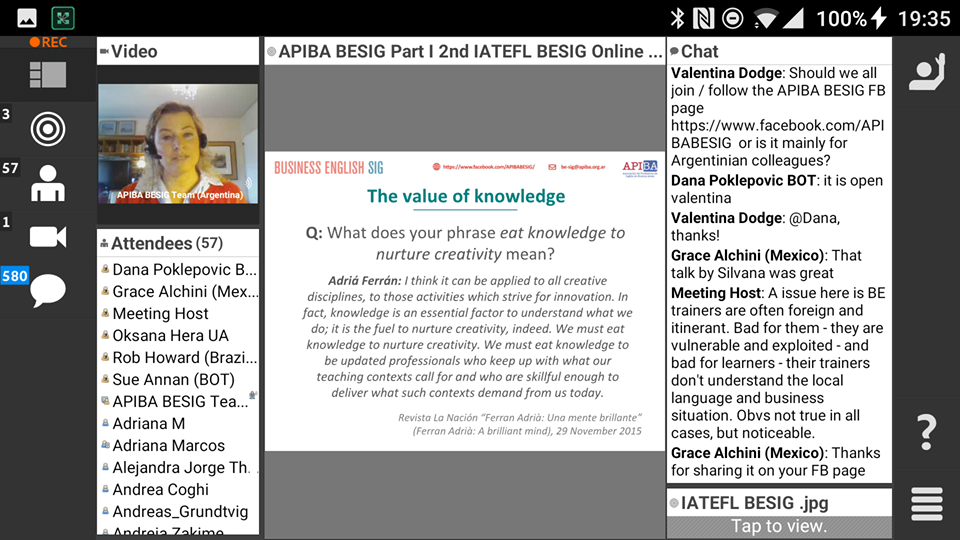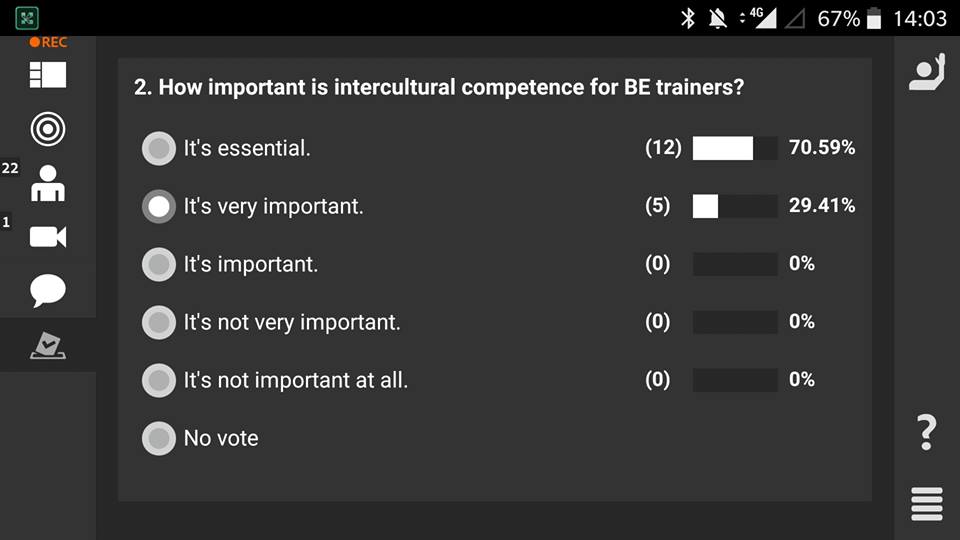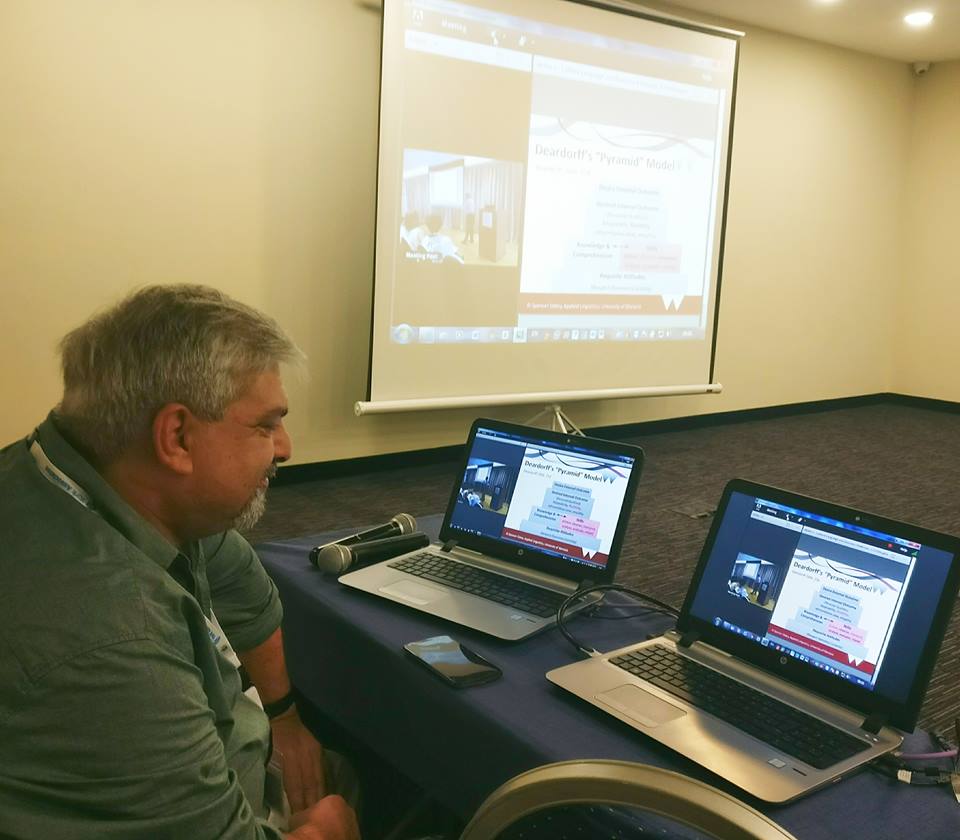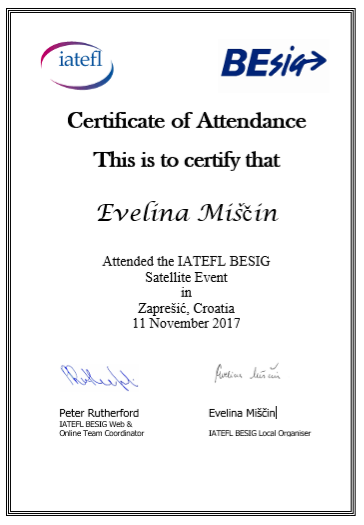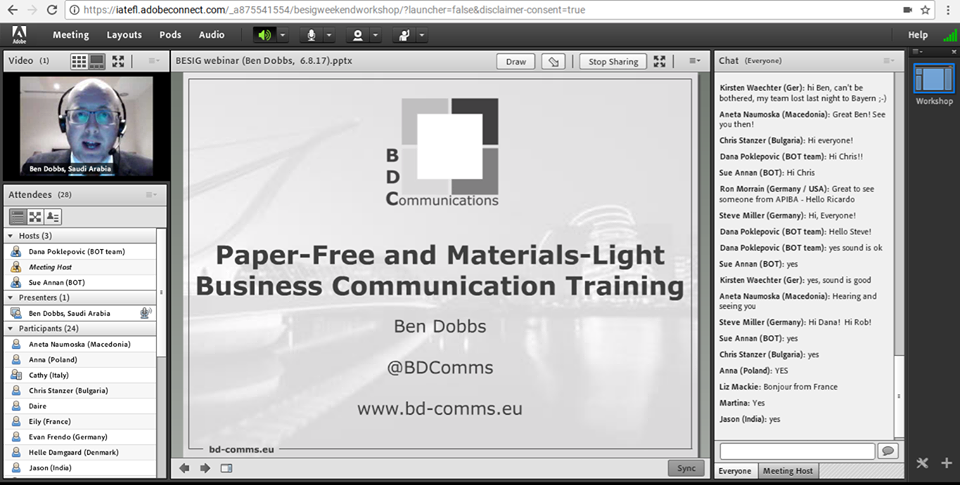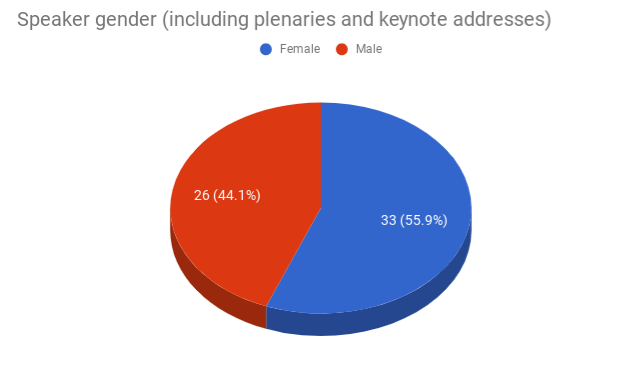 Date:
2 December 2018
Join us online on Sunday, 2 December, at 3pm UTC (3pm GMT) for a webinar titled, "English for Specific Purposes: English for Finance and Banking".
Our webinar will see one more turn to ESP, taking on the issue of teaching English to the banking and finance industry.  We are pleased that two experts in this field, Marjorie Rosenberg and Shanthi Cumaraswamy Streat, have agreed to hold a panel discussion on this topic and share some tips and ideas on different ways to teach the vocabulary needed by those in the field.
Marjorie Rosenberg
Marjorie Rosenberg, as a trainer who has worked at universities, with teachers and with corporate clients, finds it important to help all her students discover their strengths and work on the areas they want to improve. Her work in finance began over 30 years ago at her local bank and since then she has trained employees as well as members of the management board.
Teaching in this field is both exciting and challenging as Marjorie feels it is our job to find ways to help clients with their fluency, confidence, and cultural awareness at meetings, teleconferences and presentations throughout Europe.
Shanthi Cumaraswamy Streat
Shanthi Cumaraswamy Streat is an independent online business communications trainer "passionate about releasing international speakers of English from the shackles of speaking fluently (and all the stress and 'paralysis' it brings) and to help them gain the courage and skills to become daring and empowered business communicators in English." After 20 years in the world of finance, she transitioned to the world of ELT in 2010 and has never looked back.
Shanthi's mission: "To crush the grammar worrier and release the communication gladiator in international speakers of English".
Join the live event here.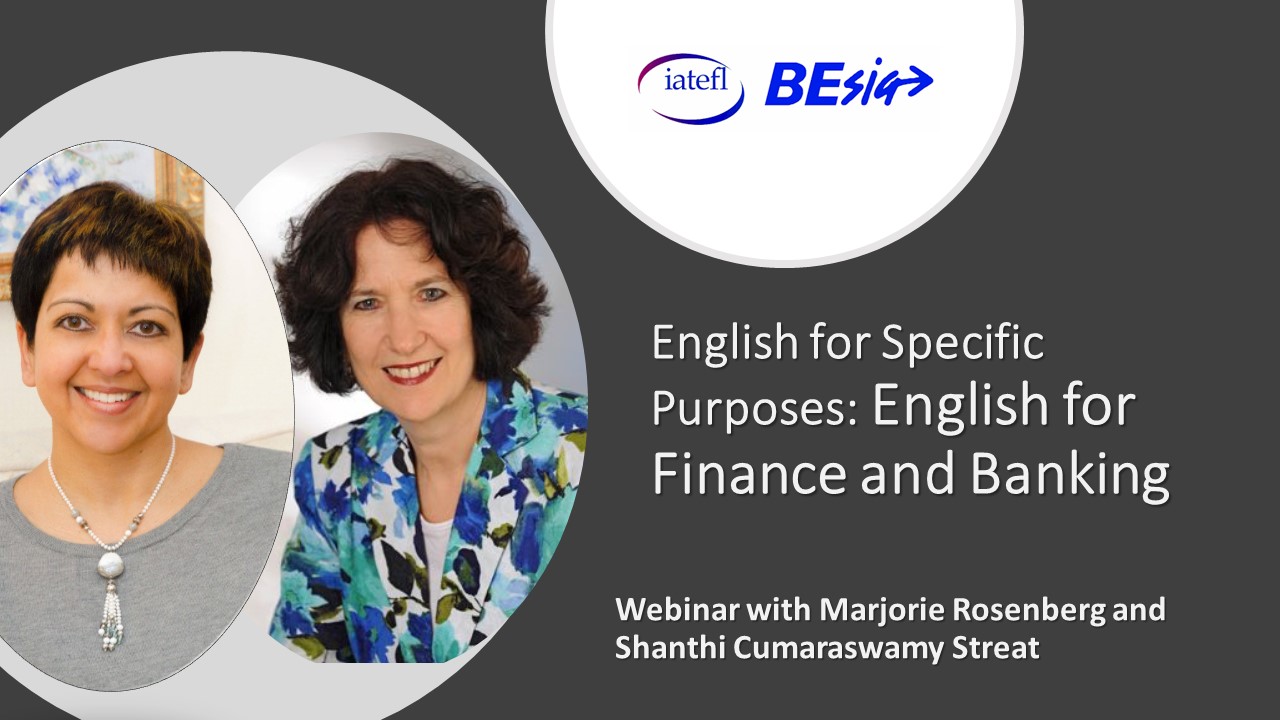 Date:
14 October 2018
Join us online on Sunday, 14 October, at 2pm UTC (3pm BST) for a webinar titled, "English for Specific Purposes – Teaching English for Human Resources".
In our increasingly interconnected and globalising world, human resources professionals often need more English for their jobs.
In this online workshop, Pete Rutherford will share teaching ideas and a few personal, hopefully pertinent, anecdotes from his time as an English for HR trainer.
In the second half of the webinar, Pete and the BESIG Online Team will moderate a swap shop where participants can share and discuss the changing HR landscape, teaching tips, best practice, classroom experiences, and materials.
If you would like to contact Pete before the webinar (particularly if you're interested in contributing to the swap shop component), please email him at pete.rutherford@besig.org.
Pete Rutherford
Pete Rutherford has been teaching business English in Europe, primarily Germany, for the last 10 years. Before this he worked in human resources in South Africa. Pete was one of two advisors to Cornelsen for their most recent update to the short course book, "English for Human Resources"
Join the live event here.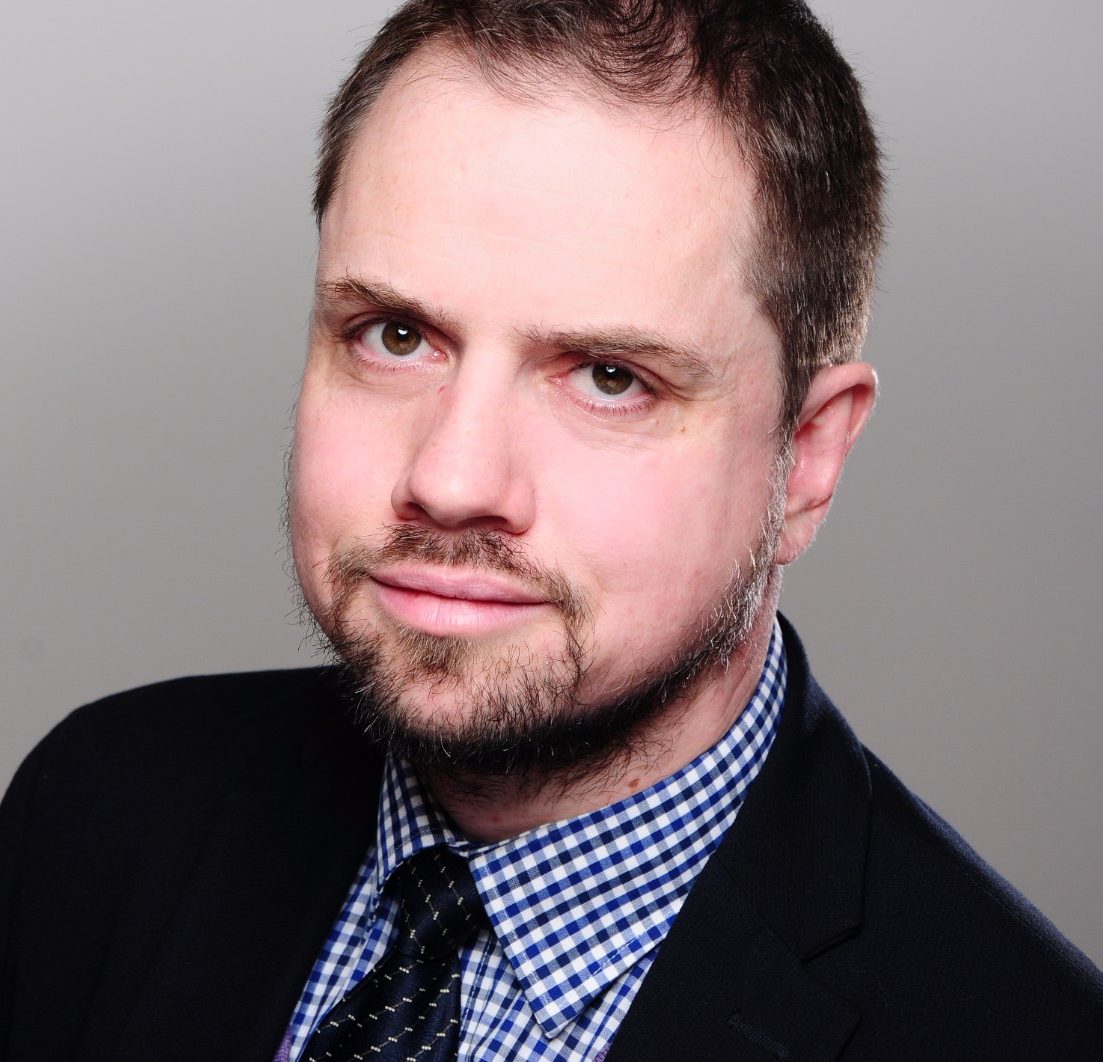 Date:
2 September 2018
Join us online on Sunday, 2 September, at 2pm UTC (3pm BST) for a sneak preview of what to expect at the BESIG Annual Conference in Iasi, Romania, from 16-18 November 2018.
From the 80 exciting sessions on offer at the conference itself, we have invited 10 speakers to give us a preview of how their talks and workshops will be exploring the frontiers of business English.
Each speaker will give a brief summary of their talk and we are sure that this will help us understand where our frontiers are, what paths are available to us and what challenges we need to master.
If you are considering attending the conference, this is the perfect way to get you in the mood!
Join the live event here.
Date:
5 August 2018
Join us online on Sunday, 5 August, at 2pm UTC (3pm BST) for a webinar titled, "DIY Design: Crafting your Professional Image as a Freelancer"
You are an experienced, qualified, professional Business English trainer. You know how to help your participants improve their language skills, and you regularly invest in professional development to become a better trainer. Your current course participants know this and trust you, but what about potential new clients? How can they tell that you are a quality trainer? Does your brand image accurately reflect the quality of the service you provide? What is a brand image, anyway?
In this webinar, we'll explore why good design is important – both for the materials you develop for your courses (worksheets, cards, transcripts) and the images you use to attract new clients (logos, letterheads, invoices, business cards). We'll look at examples of good and bad design and discuss what makes them successful or unsuccessful. Sherri Williams will also show you lots of free or low-cost online tools and downloadable programs you can use to create your own designs. You don't have to be a professional designer to create great designs – to find out more, join us!
Sherri Williams
Sherri Williams is a communications specialist based in Berlin, Germany. She studied studio art, graphic design and languages in the USA before beginning her teaching career in Montreal. She now works in Berlin with professionals in various industries to improve their English and communication skills through one-to-one training, workshops and intensive courses. She is the Chair of ELTABB (English Language Teachers' Association Berlin-Brandenburg) and a frequent speaker at international conferences including BESIG and IATEFL Poland.
Email: Sherri@SherriWilliamsEnglish.com
The recording of this webinar is available to IATEFL BESIG members.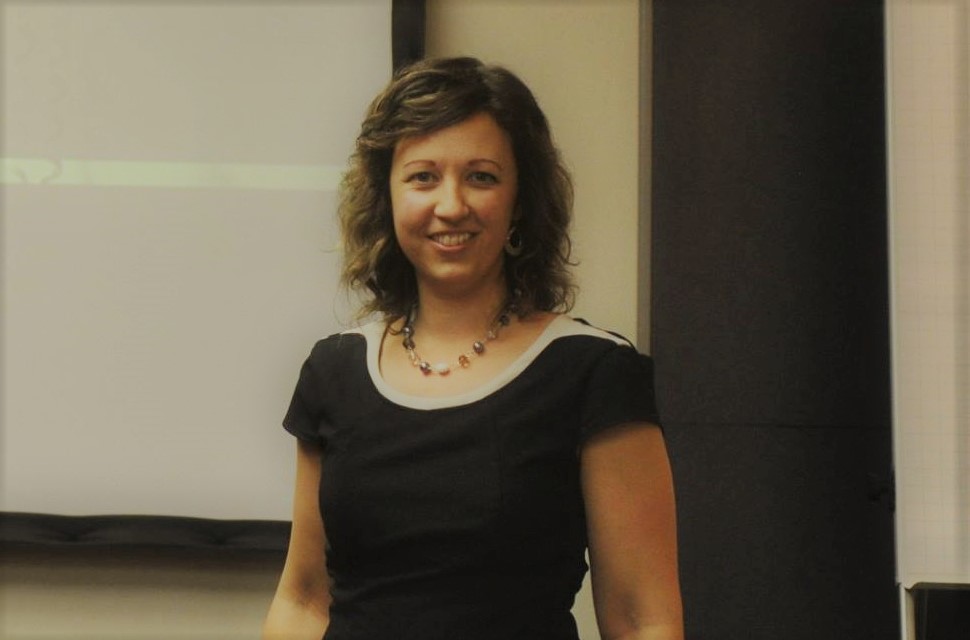 Date:
1 July 2018
Join us online on Sunday, 1 July, at 2pm UTC (3pm BST) for a webinar titled, "What is the future of Business English training?"
How many times have we, BE trainers, asked ourselves the question above? In this webinar, Louise Goodman attempts to give an answer, inspired by the approach of "Total Customer Experience". This approach has enabled top managers to obtain higher-than average results in their own business, so why not apply it to BE training? To do so, she has developed a model that provides a framework and the rationale behind her theory. It will be a great opportunity to share the model with the webinar participants and she is looking forward to getting feedback from a variety of perspectives. Join us online to share your experience! See you there!
Louise Goodman
Louise Goodman's passion is developing executive communication. Mastering the language is not enough. Models and relationships are key. She has business experience, the Delta, the CertIBET Certification, and a MS in applied maths.
The recording of this webinar is available to IATEFL BESIG members.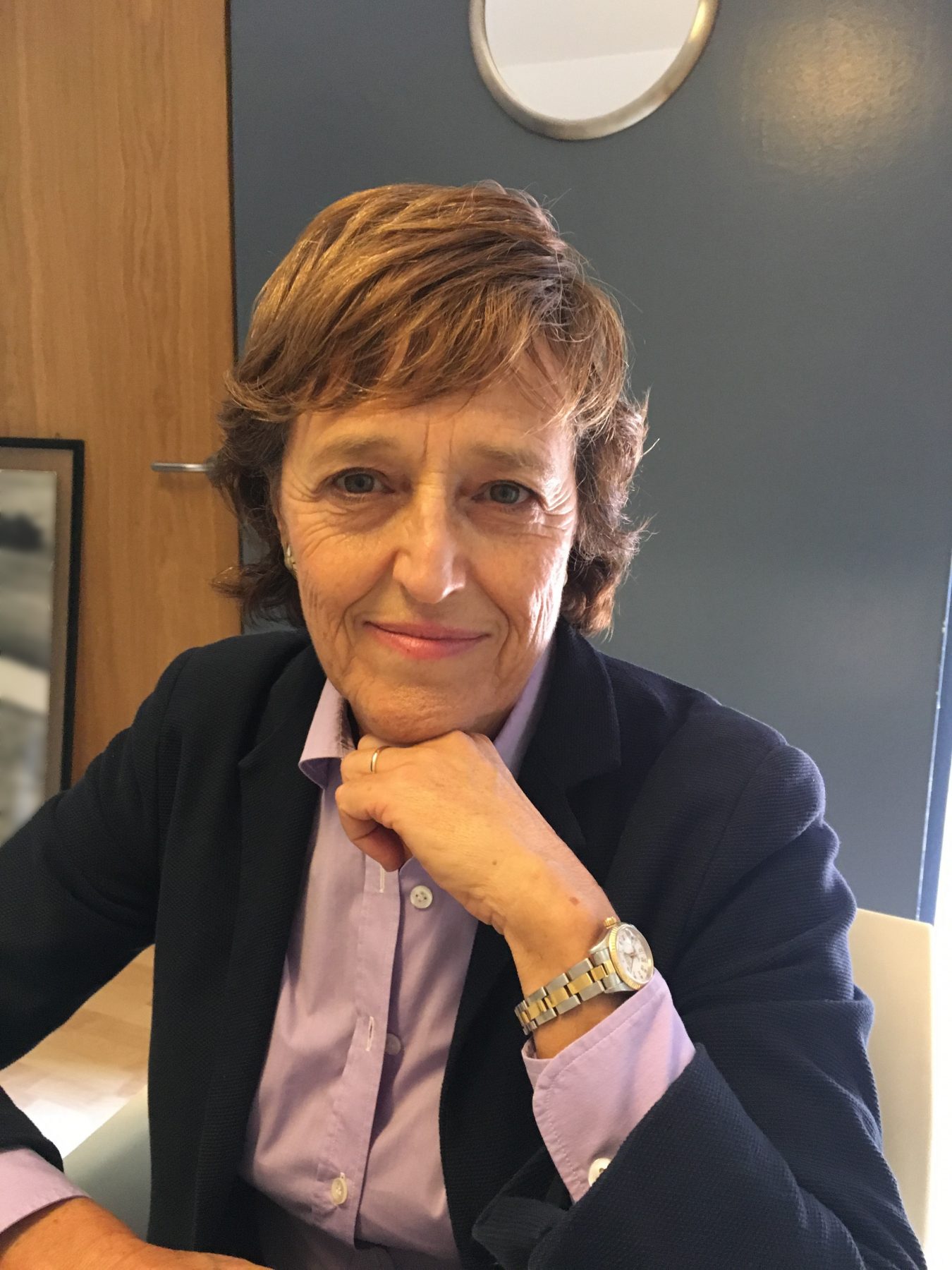 Date:
3 June 2018
Join us online on Sunday, 3 June, at 2pm UTC (3pm BST) for a webinar titled, "Teaching customer service… with a smile"
BESIG is continuing its series of webinars on ESP topics by looking at the field of customer service. Rob Howard will look at ways of teaching exemplary customer service through stories, facts and examples worldwide. He will be giving sources and resources for finding and producing materials for the BE classroom. Rob, an executive sales manager in telecommunications in the US before he became a BE trainer, trained companies and sales reps for years as well as set up, trained and ran call centres throughout the Northeast. He will share his methods with which you will find useful when training people for working in customer service looking at aspects that matter in a global service industry.
Rob Howard
Rob Howard, after a successful business career in the US, is now online as an active EFL Teacher and Neurolanguage Coach and training teachers to build their own freelance businesses as well as teaching Business English. He is Joint Coordinator for the IATEFL BESIG Online Team, president of the BRAZ-TESOL BESIG, Online and Video Coordinator for the Visual Arts Circle and has authored and coauthored several books for EFL as well as co-founded the Independent Authors & Publishers Group together with Dorothy Zemach. He is a speaker worldwide on Continuing Professional Development, Business Development and Image Presentation and the founder of EFLtalks which was nominated for the 2016 British Council's ELTon Award for Innovation in Teacher Development. He lives in Brazil and Poland. More info: www.RobHoward.me
The recording of this webinar is available to IATEFL BESIG members.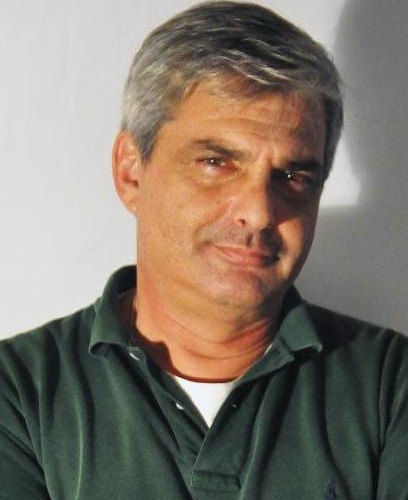 IATEFL BESIG webinar: The future of soft skills (recording)
Date:
6 May 2018
Join us online on Sunday, 6 May, at 2pm UTC (3pm BST) for a webinar titled,  "The future of soft skills – which ones do we need to teach in the BE classroom?"
As teachers of business English, we teach much more than a language. Increasingly, the discussion of life skills and how to integrate them has gained importance. But which ones are the ones that matter? In this webinar, Emma Sue Prince will look at adaptability, empathy, critical thinking, integrity, being proactive, optimism and resilience, all buzzwords for 21st century soft skills. She will discuss how to include them in the BE classroom and how to make use of them as a teacher for your own good, e.g. when networking or leaving your comfort zone, reinventing yourself in your role and using new skills consistently. Thus, soft skills teaching also encompasses soft skills learning to foster both your wellbeing and your professional development.
Emma Sue Prince
Emma Sue Prince is a qualified teacher and management development trainer, author and business consultant. Her expertise lies in soft skills, trainer training, materials design, qualification development and management development. She provides employability, soft skills and education consultancy in emerging economies all over the world working on large-scale projects in India, Malaysia, Tanzania and in Bangladesh in partnership with the Department of International Development and the British Council. Emma Sue developed Unimenta to make it easier for teachers and practitioners to deliver soft skills and personal development.
She is author of The Advantage, published by Pearson Business which redefines soft skills as personal competences we can all develop and nurture.
The recording of this webinar is available to IATEFL BESIG members.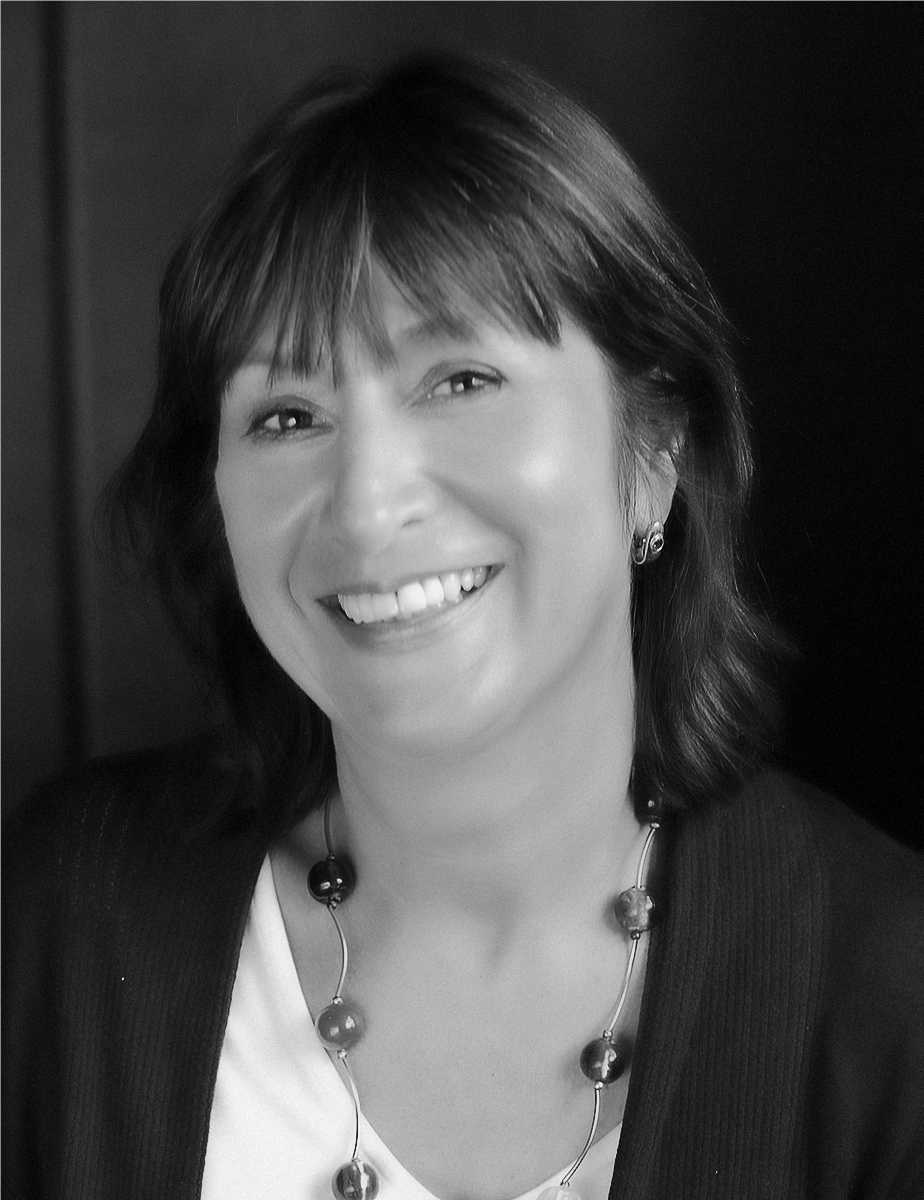 Date:
4 March 2018
Many business English trainers work in-company or with in-work students and are frequently asked to include materials and exercises that relate to their students' areas of expertise. What we are teaching then is, in fact, English for Specific Purposes – covering topics from HR, sales and marketing to finance, accounting, technical English and business law. Understandably, you often hear the cry, "But what do I know about it? I'm not an expert! How can I teach this?" In our IATEFL BESIG swap shop on 4 March 2018 at 3pm UK time, also a precursor to the IATEFL Brighton BESIG/ESPSIG PCE World Café on the very same topic, we will discuss these questions and more. Join us and share your experience, concerns and ideas. The swap shop format allows for more audience participation than a webinar, so be prepared to get involved!
A recording of this swap shop is available to IATEFL BESIG members.