32nd IATEFL BESIG Annual Conference
Welcome to the Official Information Channel for the Berlin event. All official information will be updated here so please check back often.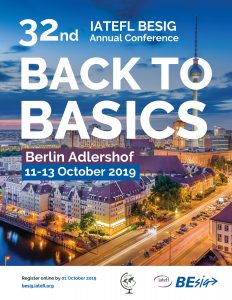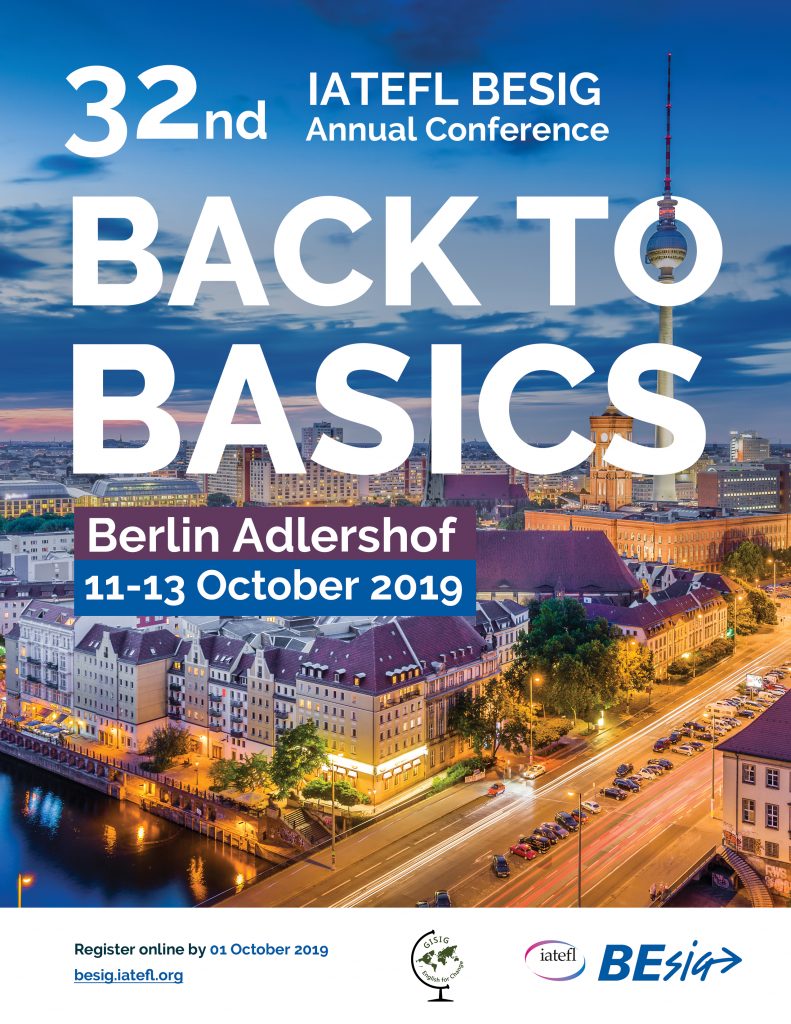 We are very excited to announce that the 32nd IATEFL BESIG Annual Conference will take place at Wista conventions Adlershof, Berlin, Germany from 9.00am on Friday, 11 October to 2.00pm Sunday, 13 October 2019.
Last year in Iasi, we explored the frontiers of business English, with over 80 talks and workshops on coaching, technology, management, soft skills, intercultural communication and innovative teaching methods. This year we're going back to basics and investigate which tried and tested methods have stood the test of time and which innovative practices have become fundamental concepts in business English in recent years.
The conference will also include a GISIG strand on tackling global challenges such as sustainability, climate change and inclusion in the business English classroom.
Our venue is Wista conventions in Berlin Adlershof. With seven elegant and fully-equipped conference rooms, a state-of-the-art plenary room and a generous exhibition area, Wista conventions can welcome maximum 450 participants.
It only takes half an hour by S-Bahn to get from Alexanderplatz in central Berlin to Adlershof. The main road here is Rudower Chaussee, and the tram running along it connects the university campus, the Technology Park and even a new residential area, further linking the areas to either side of the railway. There are over 20 eateries and restaurants in the area, as well as 3 hotels.
Registration is limited to only 450 delegates and we expect to sell out early this year for our long awaited return to Berlin.
While you are waiting for this year's program, take a look back at the 2018 Iasi program or the 2017 Malta program to get an idea of what you'll see.
Our Call for Proposals guidelines are here: Guidelines for Speakers 2019
The Call for Proposals closed on 31 May . 
Our registration form is here: 32nd IATEFL BESIG Annual Conference Registration
---
Have you missed your chance to apply for the IATEFL BESIG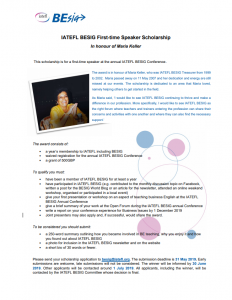 First-time Speaker Scholarship? One member will win their chance at a year's membership to IATEFL including BESIG, waived registration for the annual IATEFL BESIG Conference and a grant of 500GBP. Applications closed 31 May 2019 but don't miss your chance to join us next fall.
For information on the scholarship and how to apply, click here.
---
More information on the venue can be found here: WISTA Conventions Rudower Chaussee 17, 12489 Berlin
 

As the venue is a convention center, there is no official hotel for this event. BESIG will not arrange any
hotel discounts

so p

lease refer to your favorite booking site for accommodation information.
Promo code for all current IATEFL Associates:
We are once again offering a special rate for members of teaching organizations who are also IATEFL Associates.
Please contact [email protected] if your Association is interested in this offer and you will be sent the promo code. Please do not advertise this code on your website. Your members should register as non-members and enter the promo code to pay a fee of 199GBP (saving 50GBP on the non-member earlybird rate). This applies if the booking and payment is made before 1 August 2019. After 1 August a different code applies and the Associate member fee rises to 269GBP. If the correct promo code is not added at the point of registration then the full amount will be charged and no refund will be given. Please note that if your members are also IATEFL members they should register as IATEFL members (and not enter the promo code) to get even more of a discount!
To see the list of associates, click here.
Here are some useful sites to help plan your journey:
Disclaimer: This list was compiled by our volunteers and is provided for general information purposes only. BESIG has no liability for the accuracy of the information and cannot be held liable for any third-party claims or losses of any damages.
Some hotel info in Berlin Adlershof area here.
Berlin travel info, including a very efficient journey planner, is on this page https://www.bvg.de/en
(Public transport in Berlin: timetable information, traffic reports, apps, online tickets & BVG news)
And here is the link to the tourist website https://www.visitberlin.de/en
(Berlin's official travel website)